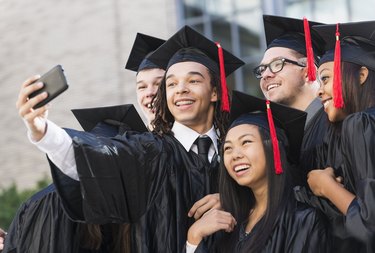 As despondent as we all might be about social distancing and self-quarantine, think of the high school and college seniors robbed of their final months together. All of pop culture tells us that the final semester is for parties, bonding, romance, and the culmination of your life so far. Rather than a prom or a graduation or a big celebration, these kids might get a Zoom call.
That's why well-meaning olds are flocking to social media to share photos of themselves at the cusp of joining the real world. People are posting images of themselves from their own senior year, however long ago that was, with advice and encouragement for everyone who's missing out. Unfortunately, because we can't ever have nice things, there's a problem: It's a pretty easy for an enterprising hacker to reverse-engineer your own information, from mascot to graduation year to name of high school, and use it to recover or reset online passwords.
Much like we've all learned not to publicly share our stripper names (security questions: first pet plus childhood street), posting your senior picture with the hashtag #ClassOf2020 might add to the treasure trove of data collecting online. It stinks, especially given that identity thieves have made so many harmless and prosocial actions or instincts suspect. But if you're really looking to help new graduates, the cheerleading is great in person, one on one — and getting them up to speed on personal finance, online privacy protection, and other real-world necessities is even better.