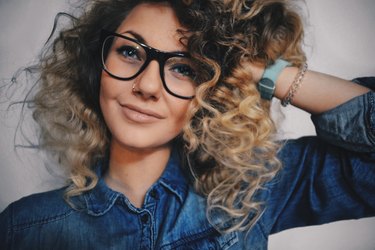 If you have less-than-perfect vision and the latest iPhone, the latter is about to help you out with the former. Quintessential hipster startup Warby Parker has just released an update for its mobile app that brings augmented reality to online shopping. If you can't make it to a physical store, Warby Parker is making trying on its glasses a lot more intuitive.
If you've used the Animoji or Face ID feature on the iPhone X, XR, XS, and XS Max, you've already got an idea of how this works. Users start off by taking a quiz to determine what colors you like and how you'd like your glasses to fit your face. They can select a frame model from a list of recommendations, then see a live, responsive image with a perfectly placed, fully rotating pair of glasses on their face. Warby Parker is already known for its in-home try-on model, in which shoppers can order five pairs of frames with prescription lenses and choose which ones to keep.
With the rise of direct-to-consumer manufacturers like Joybird and Framebridge, especially for home and personal goods that express personality and creativity, this sort of technology is likely to become more and more common. Even IKEA has had its own AR app since 2017. Voice shopping and online personal shoppers are already becoming close to normal, and they're only going to become more accessible as they get more affordable with time. The future is looking pretty cool — and we could be living that Jetsons lifestyle sooner than anyone thinks.