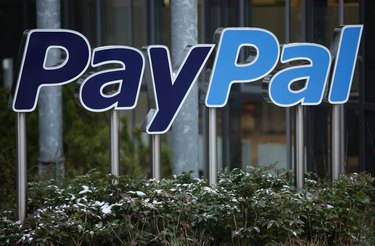 PayPal, a subsidiary company to eBay, has become the most popular way to pay for items on the auction site. Accepting PayPal payments as a seller will increase your customer base and allow you to receive payments faster than requiring mailed payments. To be able to accept eBay payments through PayPal, you first need to accept it as a payment, then transfer the funds you receive out of the PayPal account.
Accepting PayPal Payments
Step 1
Click "My eBay" at the top of any eBay page and sign in.
Step 2
Hover the cursor over the "Account" tab and select "Site Preferences."
Step 3
Click "Show" on the "Payment from buyers" line and click "Edit." You may need to enter your password again.
Step 4
Check the "Offer PayPal as a payment method in all my listings" box and press "Submit."
Withdrawing Money
Step 1
Log in to PayPal and click "Withdraw."
Step 2
Click "Transfer money to your bank account."
Step 3
Type in how much you want to withdraw from your available balance.
Step 4
Select which bank account to use from the drop-down menu and click "Continue."
Step 5
Verify the information on the screen and press "Submit."
Tip
Before you can withdraw money from PayPal for the first time, you need to provide your bank information. You can edit this info by clicking "Profile" and opening the "My money" tab.
You can also receive your money from PayPal as a check by selecting "Request a check from PayPal" on the Withdraw screen. PayPal charges $1.50 for each mailed check. Alternatively, you can spend your PayPal balance directly on other PayPal purchases or use it through a PayPal debit card, if you have one.