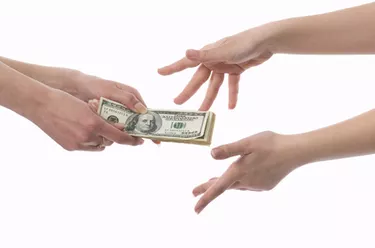 Setting up a PayPal account to receive money allows people to obtain funds from another person or company without the need for a credit card. If you need to collect money for a service you have performed, loan you have given, or product which you have created, you can have money sent directly to your PayPal account to complete the transaction. Once you have a PayPal account, you have the option of transferring funds to your own personal bank account via the Internet, or withdrawing your money via a PayPal-issued debit card, which they can send you in the mail. If you use your PayPal debit card to withdraw funds from your account, you will be charged a one dollar fee by PayPal in addition to any extra fees your bank may charge.
Step 1
Go to paypal.com. Click on "Get Paid," and then click "Get Money."
Step 2
Decide which account you would like to establish. Choose either a personal or business PayPal account. If you are a business owner and will be receiving payments on items your business sells on a regular basis, choose the business account option. Start a personal account if you desire to collect money for non-business-related reasons such as from friends or family members.
Step 3
Input your personal information online. Include your e-mail address, date of birth, phone number and physical address. Sign up for a PayPal premier personal account so you can receive money now, and have the option to buy products at a later date if that is your desire.
Step 4
Gather the information of your financial institution. Fill out the name of the location where you bank. Complete all required banking institution fields including the routing number and account number fields. Your account number is found on the bottom left of your check, and the routing number is to the right of that. Pick either your checking or savings account to use for PayPal account purposes.
Step 5
Expect a PayPal confirmation e-mail. Click the link in the e-mail and you will arrive at a webpage that will allow you to verify your PayPal account. Ensure that the webpage you are taken to states that you have successfully verified your PayPal account.