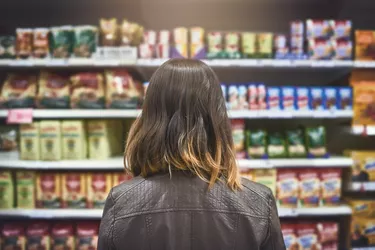 You can check the status of your application to New Jersey's Supplemental Nutrition Assistance Program (SNAP) — sometimes still referred to as food stamps — by phone, online or in person. You will be asked for photo identification if you check your status at the county welfare office, so take your passport, driver's license or other government-issued identification with you. If you check your status by phone, you will be asked to identify yourself with personal details, such as your Social Security number and date of birth.
SNAP Benefits Processing Time
If you are approved for SNAP benefits, the Department of Human Services will notify you by mail. The notice discloses your monthly benefit amount, as well as how long your food stamps are scheduled to last. Generally, you will begin receiving food stamps within 30 days of the date Human Services received your SNAP application. If you were denied food stamps, you will receive a letter informing you of the denial and why you were deemed ineligible. If you don't receive an approval or denial letter within this 30-day window, contact Human Services to check on the status of your application.
SNAP Benefits Phone Verification
Call the Department of Human Services' Family Development Division at (800) 687-9512. The Family Development Division administers the state's food stamp program. You also can call your local welfare agency. In most New Jersey counties, it is called the Bureau of Social Services. New Jersey provides a list of locations on its website. You will find your local office's address, phone number and business hours.
SNAP Benefits In-Person Check
You can also visit your local welfare agency in person. Most local offices are open between either 8:00 a.m. and 4 p.m. or 8:30 a.m. and 4:30 p.m. However, check business hours online or by phone before you head out, since a few locations are only open certain days of the week or take customers by appointment only.
SNAP Benefits Online Inquiry
If you applied for food stamps online, you can also check the status of your SNAP application online. Go to https://oneapp.dhs.state.nj.us/ and click the "Check Application Status" link. Enter your "Application Number" and "Applicant Date of Birth." Next, click "Get Status" button. The status of your application will appear on the next page.
New Federal SNAP Legislation
Beginning in 2016, able-bodied adults without dependents (ABAWD) who aren't working or otherwise participating in an approved work activity can only receive 3 months of SNAP benefits within a 3-year time period.