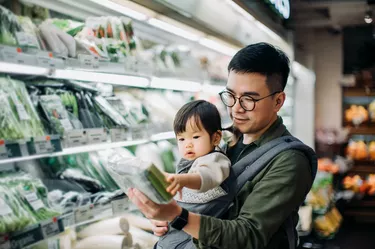 The Supplemental Nutrition Assistance Program, also known as SNAP, helps low-income households throughout the country purchase groceries that will enable them to live a healthier lifestyle. Since each state administers the program on a local level, the exact process for checking on an application may vary. Generally, you receive a notice in the mail once your application is approved, but you can also check your status online, over the phone or in person.
Information Needed to Check Status
If you were assigned a case number, you may need to enter it when checking your application status. You'll also need to verify your identity by providing your personal information as reported on the application, including your Social Security number, full name, address and phone number.
Using Online Accounts
If you applied for SNAP benefits online, you can log into the account to check the status of your application. For example, in Florida, you can register for a My ACCESS account that allows you to apply online and check your benefit status 24 hours a day. The Massachusetts Department of Health and Human Services website features a My Account Page that provides up-to-date case status updates. In New York, the myBenefits tool provides users their most current benefit information, including case statuses and available SNAP benefit balances.
Talking to Local Case Workers
Call the local department in charge of administering public assistance benefits in your state. This is typically either the Department of Children and Family Services or Health and Human Services. If you received any notices in the mail, look for a phone number and the case worker assigned to your case. Contact the case worker or call the information hotline and ask about the status of your application.
If you prefer, you may also stop in your local public assistance or social services office to discuss your case in person. If you are unsure as to the location of the office closest to you, you can locate a SNAP office by visiting the United States Department of Agriculture Food and Nutrition Services website.
Understanding Application Processing Times
When an application status is pending, it means your application is still being processed. If additional information is needed, you may receive a letter in the mail requesting more documents.
SNAP applications can take 30 days to process. Expedited or emergency SNAP benefits may be available if your household is in immediate need. Requirements for expedited benefits vary, but usually the household must have less than $100 in the bank and a monthly income of $150 or less. Expedited applications are processed within 7 days.
Getting Your Approval Letter
When your application is finished processing, you'll receive a notice in the mail either approving or denying your request for benefits. If you're approved for benefits, the letter will include a monthly benefit amount.
Benefits are deposited onto an Electronic Benefit Transfer (EBT) card monthly. Depending on your state, you may receive an EBT card before your application is approved. Although you may get your card in the mail right away, you won't have any benefits on the card until your application is processed.