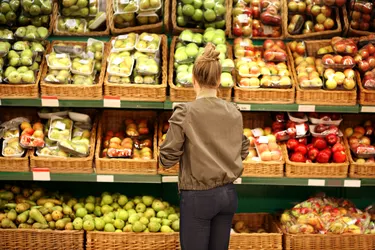 In Florida, there isn't a "welfare" program. However, the state does offer public assistance benefits to low-income residents. Each benefit is offered through a separate program, and each has different eligibility requirements. Food assistance is administered through the Supplemental Nutrition Assistance Program (SNAP). Cash benefits are awarded through Temporary Assistance for Needy Families (TANF). Medicaid provides healthcare benefits. You can apply online, in person, by fax or by mail for each.
Florida Welfare Program Qualifications
Families and individuals may qualify for SNAP, provided they meet the income and asset limits based on the number of people in the household. If you're a healthy adult between the ages of 18 to 50 and you don't have dependent children, you only can receive SNAP for three months in a three-year period if you aren't working or in a workforce program. Most applicants are limited to a household income no more than 200 percent of the federal poverty level.
TANF is available only to households with dependent children. All able-bodied adults are required to work or participate in a workforce program to receive benefits. The program provides temporary cash benefits, but the overall goal of the program is to help you achieve economic self-sufficiency. The program offers services that can help you find a job, such as resume building workshops. Transportation and childcare assistance also is available.
Medicaid provides certain healthcare benefits to low-income pregnant women, children, parents, the elderly and the disabled. Individuals with income or asset limits too high to qualify otherwise may be eligible as medically needy under Medicaid. If deemed medically needy, you'll need to have a certain amount of medical bills each month before Medicaid will pay.
ACCESS Florida Benefits Application Process
You can apply for SNAP, TANF and Medicaid online through the Automated Community Connection to Economic Self Sufficiency Florida website. If you don't have Internet access at home, you can apply at a local community partner agency or service center. You'll need to register for an account by providing your basic information and creating a username and password. The website allows you to apply for all three types of benefits at one time using the same application.
Eligibility requirements vary, so you may want to use the "Am I Eligible?" screening tool to determine which programs you may qualify for based on your household size and income. After completing the application, you'll see a list of documents you'll need to mail or fax to your local Department of Children and Families office. Documents include photo identification, birth certificates, proof of income, proof of employment and household bills.
Submitting Paper Applications
You can download and print a paper application found on the forms page of the DCF website. If you don't have a printer, you can obtain the form at your local ACCESS service center, community partner agency or DCF office. Once the application is complete, mail, fax or drop it off at the ACCESS service center in your county. Submit any required documents with your application.
Benefits Eligibility Interview
An interview is required to discuss your financial status and confirm the information you reported on the application. The interview may occur in person or over the phone. At the time of the interview, the caseworker may need you to submit additional documentation. Submit any requested documents as soon as possible to avoid processing delays.
Checking Your Benefits Status
If you applied for benefits online, log into your ACCESS account to check the status of your application. You also can call the ACCESS customer call center at 866-762-2237 to receive automated updates by entering your Social Security number and date of birth. You'll have the option to speak to a representative if you have questions regarding your case. Generally, you'll receive a response in the mail with a decision regardless of which method you used to apply. SNAP and TANF applications can take 30 days to process, while Medicaid applications can take up to 45 days.