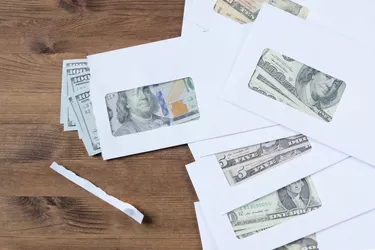 The federal government funds the Low-Income Home Energy Assistance Program, or LIHEAP, to allow states to provide help to households that are in danger of losing their electric service or have already experienced disconnection. Some state energy assitance programs only run during the winter months, while others have limits on the number of times you can receive help with your electric bill each year. Although each state has its own qualifications and application process, the basics of receiving energy assistance remains the same.
Step 1
Determine your eligibility for LIHEAP. Federal guidelines set the maximum income threshold at 150 percent of the federal income level or 60 percent of your state's median income, whichever is higher. As of 2012, 150 percent of the federal poverty level is $16,335 for an individual.
Step 2
Collect the documents you will need to complete your application. This includes you and your family member's Social Security cards, birth certificates and photo ID for all household members over age 18. You must also provide one to three months of pay stubs your most recent electric bill.
Step 3
Go to the U.S. Department of Health and Human Services website to locate the contact information for your state's LIHEAP agency.
Step 4
Call the agency and tell the representative that you want to apply for energy assistance. She will either direct you to the state's LIHEAP application website or to a link where you can download a copy of the form. You may also be able to request the application by email or regular mail.
Step 5
Fill out the application with you and your household member's information, including names, Social Security numbers and birthdays. Provide your monthly income from all sources, including other government benefits. Indicate if anyone in your family is disabled or over age 65, as these are extenuating circumstances that can increase your chance of approval.
Step 6
Submit the application to your local LIHEAP office. Provide your most recent electric bill and the other documents you gathered. A LIHEAP case worker will evaluate your application and determine if you are eligible for benefits, usually within seven days. Many agencies will send an immediate notice to electric service provides to halt disconnection while the application is processing.
Step 7
Confirm the funds by examining your next electric bill. The payment will appear as a credit.