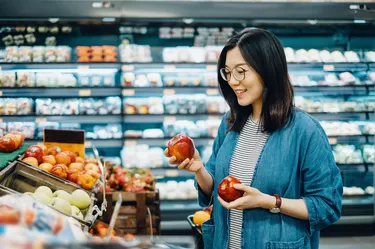 The Texas Health and Human Services Commission (HHSC) can take up to 30 days to process an application for Special Nutrition Assistance Program (SNAP) benefits, also known as food stamps. If you need immediate assistance, however, you may qualify for the expedited program and receive benefits the business day after you file your application.
Qualifying for Expedited SNAP in Texas
When reviewing an application for SNAP benefits, Texas HHSC factors in your household income and expenses. If you live with other people, share food expenses and prepare meals together, you are considered a "household."
To qualify for expedited food stamps in Texas, you or your household must meet one of the following criteria:
All household members are seasonal or migrant workers and are destitute with less than $100 in funds.

The household has less than $100 in funds and its monthly gross income is under $150.

The monthly household income and cash is less than the household's monthly housing expenses.
Applying for Expedited Benefits
To receive benefits, you must fill out and submit an application. You can do this online at YourTexasBenefits.com. If that's not possible, you have a few choices:
Print out an application from the YourTexasBenefits.com and then fax, mail or bring the completed application to your local HHSC office. If you fax or mail the application, send a copy of your government-issued ID. If you visit the HHSC to deliver the application in person, bring your ID with you.

Request that HHSC mail you an application.

If you need help accessing or filling out an application, you can get assistance by calling 2-1-1, 877-541-7905 or by visiting a community partner organization. texascommunitypartnerprogram.com offers a list of organizations that provide help with benefit forms.
Documentation Required
Unlike the regular SNAP application process, you don't need to provide documentation of your income or finances when you apply for expedited benefits. However, if you later apply for the regular benefit program, HHSC may request documentation of your financial situation, immigration status or housing situation.
Interviewing for SNAP Benefits
After you submit your application, a caseworker will contact you to set up an interview to review your application and answer your questions. This takes place at a benefits office, but if traveling to the office is a problem, you can request a phone interview instead.
Receiving Your Benefits
In Texas, SNAP benefits are delivered via the Lone Star Card, an electronic benefits transfer card you can use to purchase groceries. If you qualify for expedited benefits, you don't have to wait for HHSC to mail your card. Your caseworker can issue your card after your in-person interview. If you interview by phone, you can pick up your card from your local HHSC office. You also can request that HHSC send your card in the mail.