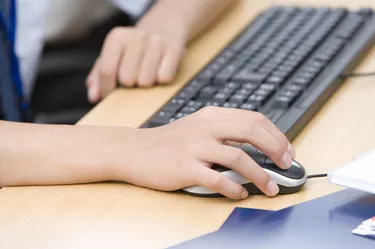 The Supplemental Nutrition Assistance Program is a federal program that provides food support for people who need it. In Florida, the SNAP program is administered by the Florida Department of Children and Families. SNAP benefits, often referred to as food stamps, are now accessed using an Electronic Benefits Transfer ACCESS card, which works like a debit card. Every EBT card has to be renewed or replaced periodically.
The Good Thru Date
If you currently receive SNAP benefits in Florida, you can find the expiration date on the front of your EBT card, which will read "Good Thru" followed by a month and year date. The card is valid until the end of the "Good Thru" month. At the start of that month, the Florida Department of Children and Families will mail you a new EBT card with the same PIN number. If you're still living at the same address, you don't have to do anything. If your address has changed, you'll need to go to your MyACCESS account online to change your information.
Reapplying for SNAP
If you were previously receiving SNAP benefits in Florida but no longer are, you can reapply online at the Department of Children and Families MyACCESS website. You also can reapply through one of the Department's Community Partners, or service centers. If you prefer, you can download the form and fax or email it to a service center, or mail it to P.O. Box 1770, Ocala, FL, 34478-1770.
SNAP Eligibility
When you reapply, you will have to meet the same eligibility requirements you met the last time. This is true whenever Florida reviews your eligibility, or if your income or working hours change significantly. If you are between 18 and 50, you won't be eligible for these benefits more than three months out of every three years unless you are employed, participating in workfare, pregnant or have minor children. Your gross income cannot be higher than 200 percent of the federal poverty line. You will be asked to provide your Social Security number as well as proof of identity, citizenship, Florida residency, income and assets. You can be disqualified for breaking the rules of the SNAP program, drug dealing or evading a warrant for a felony.
Getting a New Card
You don't necessarily need a new card when you reapply. If you still have your old EBT card, check the "Good Thru" date. If the card hasn't expired yet and you still have the same case number, you can use the same card if you are approved for SNAP again. If you don't have your old EBT card anymore, or if it's past the expiration date, ask for a new card by calling 888-356-3281.