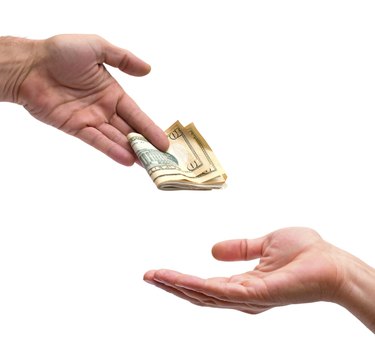 MoneyGram is a service that lets you send money to another person anywhere in the world for a fee. Transfers can be made online or in person at a MoneyGram location. Depending on the type of transfer, the person receiving the money can choose to have the funds sent directly to a bank account or debit card. You can quickly calculate the fee you'll pay to send funds through the MoneyGram website.
Step 2
Choose the "Send Online" button. You do not need to send your transfer online. This button is merely the one that lets you access the cost estimator calculator.
Step 3
Click the "Estimate your Transfer Cost" link near the top of the page.
Step 4
Select the method you'll use to send your transfer. You'll see two radio buttons at the top of the estimator screen: "At a Location" and "Online." Choose the button that matches your transfer preference.
Step 5
Use the drop-down menus to give details about your transfer. These include the country you're transferring from, the type of currency you're transferring, the country you're transferring to, and the method the recipient will use to receive the funds.
Step 6
Enter the amount you're sending and click the "Estimate" button. Your result will show an estimate of your total cost, including the "Send" amount, plus transfer fees. If you can only send a certain amount including fees, check the "Include Fee" box before you click the "Estimate" button. Your result will then show you the amount you will be able to send, minus transfer fees.