Back in the day, if you wanted to send money to a friend or family member, you'd mail a check. But there are many more options in today's digital world, which offer lightning-fast speeds of transmission and receipt of money. You'll pay more than the cost of a postage stamp to send money quickly, but you'll be able to meet a financial need for someone almost immediately.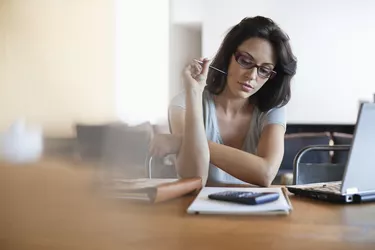 PayPal Payments
If you have a PayPal account, you can send money directly from your account to someone's email address. If you don't have a PayPal account, you can create one for free by visiting PayPal.com and following the prompts. When you're logged into your PayPal account, click "Send Money to a Friend" at the top of the page. Enter your recipient's email address and the amount of money you want to send. Follow the prompts to review and approve this information, and then click "Send." PayPal notifies your recipient by email that you've sent money to him or her. If he or she doesn't have a PayPal account to receive the funds, PayPal walks the recipient through the steps of creating a free account.
If you don't have enough money in your PayPal account to cover the amount you want to transfer to your recipient, you can still send money by linking your bank account to your PayPal account as a backup payment method. Update your PayPal account settings by clicking "Change" under payment method and selecting "Instant Transfer." PayPal will now be able to transfer money from your bank account without revealing your banking information to your recipient.
There's no fee to send personal money to family and friends in the U.S. through PayPal if you use funds in your PayPal account, your bank account or a combination of these two accounts. For international transfers, both the sender and the recipient will have to pay fees, as outlined in PayPal's User Agreement. You can also see an overview of PayPal fees by logging into your account, scrolling to the bottom of any page and clicking "Fees."
MoneyGram Payments
You can use your checking account, credit card or debit card to send money online to someone who doesn't have a bank account by using MoneyGram. You can also send funds from a MoneyGram payment location by presenting cash directly to a MoneyGram agent or by using a MoneyGram touch-screen kiosk. Your recipient is typically able to get cash from a MoneyGram agent location within 10 minutes after you send it. Another way to send money to someone is by downloading the MoneyGram transfer app to your mobile device. Regardless of how you send money through MoneyGram, the fee you pay for this service depends on the amount you're sending, where you're sending the money and your payment method.
Walmart2Walmart Payments
One of Walmart's money-transfer options is called Walmart2Walmart. You can send money to someone who doesn't have a bank account, and you can use cash or your debit card as payment for the transfer. Find a customer service representative at a participating Walmart to assist you with the transfer. The representative will give you a transaction reference number, which you'll have to give your recipient, as he'll need to show it, along with proper identification, when he picks up money at a participating Walmart. Transfer times are typically less than 10 minutes. In all states except <st1:state w:st="on">Arizona, you may send up to $2,500 per day (<st1:state w:st="on"><st1:place w:st="on">Arizona caps its transfers at $499). Fees for Walmart2Walmart money transfers are highly competitive compared to other services. To send money up to $50, the fee is $4; for transfers from $50.01 to $1,000, the fee is $8; and to send $1,001 to $2,500, the fee is just $16.
Western Union Payments
Western Union money transfers include 130 types of currencies in more than 200 countries and territories. Your recipient can pick up cash, and you can send the funds online from your credit card, debit card or bank account. You can also send money by visiting an in-store location. If you pay with your bank account, the transfer time takes up to four business days, but if you pay with your credit/debit card or with cash, your recipient will have his funds within minutes. Fees are considerably higher if you use your credit/debit card; for example, it may cost as much as $40 to send $400. But if you visit an in-store location and pay cash, your fee drops to $5.00.