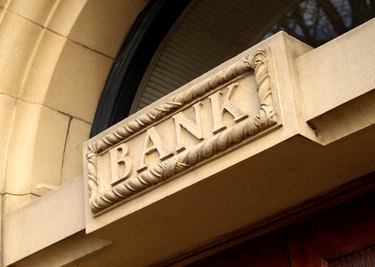 MoneyGram is an online money transfer service. Funds are transferred one of two ways, through bank account transfer or credit card fund transfer. The funds can be transferred to most countries in the world with the click of the mouse or a visit to a bank. MoneyGram also provides bill-paying services and loyalty rewards. The program is accepted and used by many American banks.
Bank of America
Bank of America provides wire transfer services through MoneyGram. As of 2010, customers must go to the bank or the wire transaction company or call the bank to make the transaction. Wire transfer services are usually used for large amounts of money. Bank of America charges $10 to $15 for MoneyGram services as of 2010.
U.S. Bank
In 2004, U.S. Bank and MoneyGram announced an agreement to work together, making U.S. Bank one of the largest clients of MoneyGram. Customers can go to the bank or wire transfer company to complete the transaction or use the bank's SinglePoint online money transfer service online. Contact your local U.S. Bank branch to learn how to set up SinglePoint for your online wire transfer needs. Fees vary based on the U.S. Bank location.
Citibank
Citibank also uses MoneyGram and has locations all over the world from which customers can send and receive money. In 2008, MoneyGram and Pakistan approved services through Citibank in that country. In June 2010, MoneyGram and Citibank merged with Central American banks to provide wire transfer services. MoneyGram is also available in Japan through Citibank.
Locating Other Banks
Locating other banks that participate in MoneyGram is simple. Go to MoneyGram's website and hit "location" at the top of the screen. Enter the country to which you wish to send money. Select the state in that country. Narrow the search by type of service and hit "Find a Location." The results will refresh the screen and appear below the search form. Results show the store or bank name where MoneyGram can be found, address and branch hours with a map.