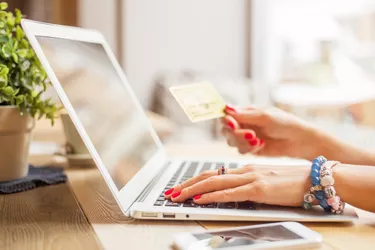 Warning
It's impossible to refund or recover money that has already been paid out to the recipient. In an effort to minimize fraud, MoneyGram advises consumers to send money only to people they know and trust.
Tip
The MoneyGram "Economy" service option is only available for money transfers using a bank account.
MoneyGram does not accept American Express or Discover credit cards.
MoneyGram International began in 1940 as Travelers Express, a small money order company in Minneapolis, Minnesota. It now operates more than 190,000 locations in 190 countries. MoneyGram services include sending and receiving money and paying bills online or at an agent location. MoneyGram offers two money transfer service levels, giving customers the ability to send money almost anywhere in the world using a bank account or credit card.
Step 1
Go to the MoneyGram website at moneygram.com. Click the "Send Money" tab in the main menu, then select "Send Online." Fill out the form by selecting the country to which you're sending the money, the currency in which the recipient should receive it, and the amount you are sending. Click "Get Started" to continue.
Step 2
Review the service fees for the "Economy" and "Same Day" options on the cost estimate page. The fee amount will depend on the sum you are sending. "Same Day" service is the more expensive option, but is the only way to send money using a credit card; click "Next" to be forwarded to a login page.
Step 3
Log in to a MoneyGram account, or create one by filling out the email address field under "First Time Here?", then click "Go." On the following page, enter your full name, billing address, date of birth, and the last four digits of your Social Security number. Create a password for the account and indicate whether you would like to participate in the "MoneyGram Rewards" program.
Step 4
Enter the recipient's full name or click the "Existing Contact" button to choose a previous recipient. Under "Payment Method," enter a MasterCard or Visa credit card number, expiration date, and card verification code, or select a saved payment method from the drop-down menu. Click on "Continue."
Step 5
Review the transaction. Your total payment amount, including the service fee, will be displayed under "Transaction Details." If you are sending money overseas, you can also see the amount the recipient will receive in the chosen currency. Read the MoneyGram terms and conditions and click "Submit" to complete the transaction. You will be assigned an eight-digit reference number which the recipient must supply when picking up the money.