After 140 JCPenney stores closed their doors, you may no longer have a local branch of the department store. While your JCPenney credit card can still be used online, you may not have a need for it if you prefer to try on clothing before buying rather than shopping remotely. If you want to close your JCPenney account, you can do so following one of several cancellation methods.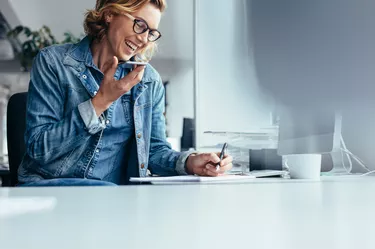 Pay the Remaining Balance
Before you contact JCPenney to close out your account, wait for your monthly statement to arrive. If there is a balance owed, make your final payment. You can make a payment by sending a check, by visiting any JCPenney store or by logging onto your online account and paying there.
Contact Customer Service
Individuals who live in the United States will need to call 1-800-542-0800 to speak with a customer service agent, while residents of Mexico must dial 011-800-527-4403. Anyone who calls Puerto Rico or the U.S. Virgin Islands home should use 1-800-981-8400.
Agents are ready to assist you between the hours of 7 a.m. and midnight (Eastern time) every Monday through Friday and 9 a.m. and midnight (Eastern) on Saturdays and Sundays. Make sure you have your account number ready, as well as the answer to any personal information or privacy questions you set up when you applied for the card.
Mail Your Cancellation Request
You can also mail in your request to close a JCPenney account. List the date, your account number, your name, address, the cancellation request and your signature on the document you plan to send. If you have a copy of one of your statements, that will help identify you so include it in the envelope. Then address the envelope with the following information if you live in the United States or Mexico: JCPenney Credit Services, customer service C/O SYNCB, P.O. Box 965009, Orlando, FL 32896-5009. Puerto Rico and U.S. Virgin Islands residents must use JCPenney Credit Services, customer service C/O SYNCB, P.O. Box 364788, San Juan, PR 00936-4788 instead.
Know the Terms and Conditions
It is a good idea to be aware of JCPenney's credit card terms and conditions when it comes to closing out your account. For example, the company states that if an attorney is hired to collect any funds you still owe, you will be responsible to pay the attorney fees. The company will also send a report to the three major credit bureaus to let them know you have cancelled your account, and whether you have done so in good standing or in default of payment.