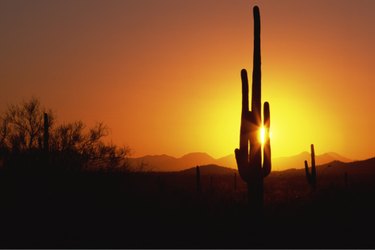 There are many criteria to consider when you are looking for a place to live if you are 55 or over. Some criteria important to you may include weather, area activities, cost of living and availability of health care. Cities which offer plenty of favorable qualities include Tucson, Arizona; Greenville, North Carolina; Ann Arbor, Michigan; and San Francisco, California.
Greenville, North Carolina
Greenville, North Carolina, offers a revitalized downtown area that has a performing arts center and a walking trail that connects the area with parks and neighborhoods. The city is home to East Carolina University, which contributes cultural offerings. It also is home to Pitt County Memorial Hospital, an academic hospital affiliated with the Brody School of Medicine. Not far from Greenville is Jones Gap State Park, where you can fish for trout, camp and hike. The average Greenville high temperature is 52 degrees in January and 89 degrees in July. Greenville has affordable housing, with a 2011 median home price of $130,500.
Tucson, Arizona
Tucson is Arizona's second largest city. The air is dry and temperatures are moderate throughout three seasons. Summers do get hot, however; July's high temperature averages 101 degrees. The city houses the University of Arizona as well as museums and art galleries that reflect the area's multicultural heritage. Tucson is home to the Tucson Medical Center, a leading area provider for emergency health care. The city is surrounded by five mountain ranges, which offer trails for hikers. Tucson has affordable housing, with a 2011 median home price of $133,800.
Ann Arbor, Michigan
Ann Arbor, Michigan, has college town advantages. There is a lot to keep people in their 50s busy, with sports and theater events, as well as art fairs and exhibits. There are educational opportunities with the University of Michigan's program for older students. The university medical facilities also offer plenty of medical care options to city residents. Ann Arbor's housing is affordable, with a 2011 median home price value of $199,100.
San Francisco, California
For those in their 50s who enjoy an active lifestyle, San Francisco, California, may fit the bill. The city on the bay offers moderate temperatures with an average January high temperature of 58 and an average high July temperature of 68. The city also has a scenic waterfront. Housing is not inexpensive, however, with a median 2011 home price of $658,400. San Francisco does offer plenty of museums and has more than 220 parks, including Golden Gate Park, and a public transportation system that makes owning a car optional. The city also provides a wide choice of health centers and hospitals.