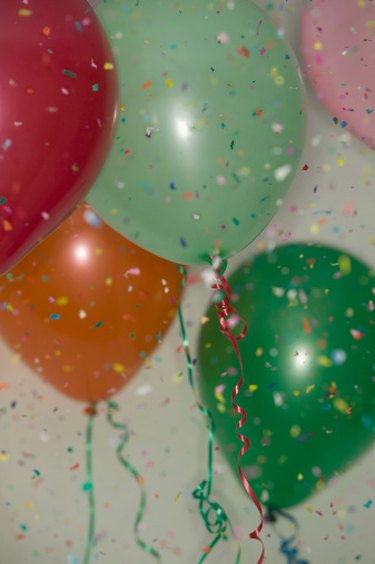 Most high school reunion committees work with limited funds. With this small budget, they must find a venue, invite guests, provide meals, decorate, arrange entertainment and supply party favors. Class reunions are special events but are expensive to orchestrate. However, with lots of planning and a little creativity, it is possible to plan a memorable, unique reunion that classmates will enjoy without spending a fortune.
Create a Reunion Banner
Reunion banners are inexpensive, customizable and available in a variety of shapes, sizes and styles. The most popular banners welcome students of a particular graduation year. However, because you can customize them, banners can make any statement that is relevant to your graduating class or unique to your school. Most local party shops, print shops and reunion supply stores sell customizable banners. You can also order reunion banners online.
Make Posters Using Yearbook Photos
Enlarge old yearbook photos and transform them into posters that you can use to decorate the walls of your reunion venue. Photos of the basketball team, football team or cheerleader squad are ideal choices. You can also enlarge photos of your old principal, gym teacher or cafeteria lunch lady. Your yearbook offers a plethora of photos to choose from. You can enlarge these photos at home if you have the equipment or use the services of your local print shop.
Balloons, Confetti and Ribbons
Find cheap balloons, confetti and ribbons containing your school colors at a local craft store. These items are inexpensive and can beautifully decorate your reunion venue. Use the ribbon to create bows and decorate the ends of each dining table with them. Throw confetti on the tables, stage and dance floor. Inflate balloons with helium and add long, colorful ribbon to the end of each balloon. Create balloon centerpieces, balloon drops or balloon arches to outline doorways.
Artificial Floral Arrangements
Create fake floral arrangements and use them as centerpieces. Artificial flowers are quite inexpensive and come in a variety of colors and styles. Find artificial flowers that contain your school colors. Ask your former classmates, family members or members of your community to assist you with designing the decorations. Most craft stores, fabric stores and sewing shops sell artificial flowers. You can also purchase individual flowers or artificial floral arrangements online.