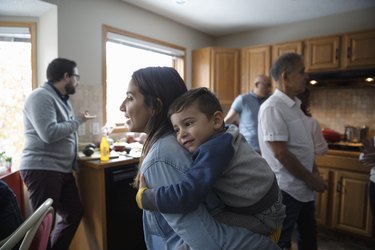 If you are looking for a way to make a little extra money, consider renting out your home for a party. If your home is in a unique location or has an exceptional layout, renting out your home for parties can be a fun and low-stress way to pad your pocketbook. In order to do this effectively, it is necessary to make a few simple decisions and preparations, then advertise in the correct venues.
Determining Party Types or Themes
Determine what type of parties would be most appropriate for your home. If you have a large and secure back yard, advertising the space for children's birthday parties may be ideal. A backyard barbecue for adults may also be ideal.
If you are limited to the interior space for a party, consider such events as costume parties or cocktail parties. In some instances, it may be possible to advertise your home as an ideal space for small wedding receptions. Set hourly rates based on the types of parties you are willing to allow in the home.
Consider Parking Accommodations
Evaluate the parking situation. Unless you have ample parking in your driveway or on your property, chances are you will have to limit the number of cars that can be used to get to the party. Make sure that any prospective clients are aware of any parking restrictions before booking a party.
Draw Up a Rental Agreement
Draft your rental agreement. Along with setting hourly rates for use of your home, also spell out other terms and conditions. These can include defining factors like who is responsible for cleanup after the party, a security deposit and what type of amenities are included in the rental. If kitchen use is part of the deal, terms and conditions for use of pots, pans and serving dishes should be defined.
Party Supplies and Decorations
Secure your basic supplies for party giving. This will include at least two folding tables that can be used to set up buffets or to allow extra sit down dining. Folding chairs are also an essential item. A collection of multi-purpose paper cups, disposable plates and napkins should be secured. A collection of the same items for use with holiday theme parties may also be purchased in advance. Decorations such as balloons, streamers and other basics should also be part of the basic collection. Finally, at least one large ice chest will come in handy in most instances.
Advertising for Party Rentals
Advertise your house rental business in appropriate venues. The local classified section of the newspaper is a good place to begin. Consider posting ads on bulletin boards at local supermarkets and colleges. Print up business cards and pass them out to friends and acquaintances. Networking in this manner will put you in touch with the right clientele and help you build your business quickly.
Staging Your Home for Parties
Arrange your home for the party in advance. This means putting away family photos, knickknacks and other personal items. Set up the tables. Hang the decorations and lay out the disposable cutlery and dishes. Fill the ice chest with plenty of chipped or cubed ice. In short, prepare everything so that the food can be put in place when it arrives, and people can begin to enjoy the party immediately.
Remaining Onsite or On-Call
Remain on call during the party. This will make it easy for your clients to contact you in the event they need assistance in some manner. If you are renting out just a few rooms or the back yard, this may require nothing more than calling for you. Should you plan on leaving the home during the party, make sure your client has a number where you can be reached.
Receiving and Returning Security Deposits
Always return the security deposit promptly if the terms of the agreement are complied with in full, including a quick remittance of payment in full. This simple courtesy will be appreciated by your client and increase the potential for positive word of mouth about your services.
Tip
One of the great things about this type of home business is you can book as many or as few parties as you wish. If you need a weekend off, then you simply inform any prospective clients that the home is not available that weekend, but is free at a later date.
Things You'll Need
Rental agreement

Disposable plates, cups, cutlery, and napkins

Decorations

Folding tables

Ice chest
Warning
Make sure the rental agreement covers every contingency, including damage to your furnishings and appliances. Failure to do may leave the burden of liability on you.