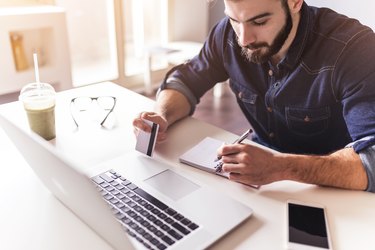 You can check your balance for a wide variety of accounts. To name a few, your bank account, cell phone statement, Internet service statement, and retirement account all have balances. Regardless of the institution, you can check your balance by following a simple procedure. All companies hold it in their best interest to allow you to readily check your balance to make payments and withdraw money without exceeding your limit.
Step 1
Login to your account. Alternatively, visit the physical location of the institution at which you need to check your balance.
Step 2
Enter your account password. Alternatively, present your valid driver's license or bank card to a teller.
Step 3
Click "Check Balance." Alternatively, ask the teller to give you your balance. They can either tell you verbally or give you a slip that contains the balance.