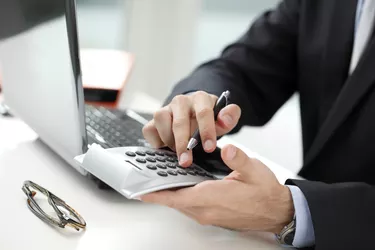 Whether you are building a nest egg or just trying to make ends meet, staying on top of your bank and credit card balances can help you keep your finances on track. Technology provides convenient ways to check your balance on the go while traditional methods, such as visiting a bank branch, are also still viable.
Online Account
From a computer, log on to your Internet banking account to check your account balances. The account information is updated throughout the day and will note pending deposits, payments and purchases. Features vary by bank but many financial institutions offer alerts that send a text or email message when your balance is at a specific amount. Additionally, smartphone apps connected to your accounts allow you to check your balances and perform other banking activities.
Warning
Your bank account balance will not reflect items not tendered, such as checks that were written but not yet cashed and scheduled online bill payments that have not been completed.
ATM
Check your balance at the ATM. You can see how much money is in your accounts using the balance inquiry feature. Alternatively, your balance will be printed on the receipt after withdrawing, depositing or transferring funds.
Warning
You may be charged a fee if you use an ATM at a financial institution other than your own bank. Contact your bank for a list of local free ATMs.
In person
Visit the local branch of your bank and speak with a bank teller to obtain your account balance. An in-person visit to your bank can be beneficial if you have questions about your account or if you want to acquire other services, such as opening a savings account.
Telephone
Call for your account balance. An automated service, which is available at most banks, will guide you through prompts to verify your identity and then provide you with your balance information. Speak to a customer service representative if you need additional information regarding your balance, such as if a check has cleared or if a payment has been made.
Warning
Many banking institutions will mail monthly statements to their customers, which will detail your account activity and list the starting and ending account balances. Note the date for the ending balance; the report may have been generated several days or even a week before it arrived in the mail. The statement may not provide the most up-to-date balance information.