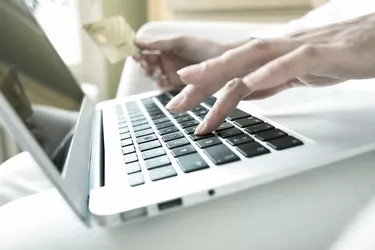 Your debit card might function like a credit card for payments and cash withdrawals, but your spending power is limited to the money available in the associated account. If you check your account balance regularly, you can avoid overdrafts and fees. There are several convenient methods to use and most of them are free.
Visit the Website
You can check your account on the Internet after you register for online access with your bank. This involves verifying your identity with information such as your debit card number, account number or Social Security number. Visit the bank's homepage and look for the link to enroll. Follow the prompts to complete the process. When you have registered, sign in to your account from the homepage to view the balance in your account.
Receive a Text
If your bank offers access to your account by text, you can check your balance this way with your smartphone. Follow your bank's instructions for signing up for the service. You might have the option of doing so online or by phone. Review the text commands for the various tasks and locate the appropriate one for checking your balance. Type this command into your phone's text program and send it to the number the bank provides. Wait for a text from the bank containing information about your balance. Text banking is typically a free service but your cell phone service provider might charge for the messages.
Telephone Call
Call the number at the back of the card to check your balance. You may reach a live representative but more often an automated response system answers the call. It will provide several options. Choose the appropriate one to check your account balance. Enter your account number when prompted. Your bank might have had you set up a password for telephone access. If so, provide that number when asked. Wait for the system to retrieve your account information and announce your balance. End the call if you don't need any more information.
ATM
Most banks let you check your balance at an ATM. Both bank-owned and non-affiliated ATMs can access and display this information, but you might have to pay a fee of up to $3.50 for the service if you use the latter. Your bank might also charge up to $3.50 for using a non-affiliated machine. Insert your card, enter your PIN and select the option to check your account balance. You can have the machine display the information on the screen or print it out on a receipt. End your session and retrieve your debit card when you are done.
Teller Assistance
Visit a bank branch to check your balance with a teller. You might incur a charge for the service, depending on your bank and whether your account benefits include free teller assistance. You'll typically have to show a form of picture identification such as your driver's license, and give the teller your account number. Some banks will have you show or swipe your debit card. The teller might print a receipt with your balance or write it down for you.