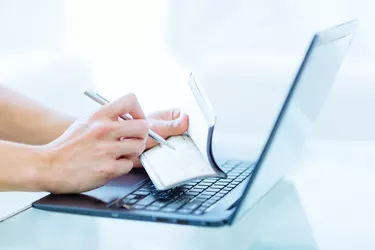 Checking your Citibank account balance is quick and easy, using your phone or a computer. Using a phone, you won't even have to talk to a human. If you check online, you can also perform a handful of other useful tasks while you're there.
Citibank Check Balance Over the Phone
1-800-248-4226, 1-800-945-0258 TDD/TTY (Banking)
1-800-950-5114, 1-800-325-2865 TDD/TYY (Citi Cards)
Follow the prompts when the phone is answered by an automated system. You'll be asked if you prefer to answer by voice or touchtone or proceed in Spanish. Make your choice.
If you're calling from the phone number associated with your account, the system will refer to you by first name, then ask you to confirm the last four digits of your card, which the system will read to you. If you confirm the digits are correct, the system will then begin to give you information about your account, starting with your last payment and then your balance.
If you're calling from someone else's phone, you might be asked to provide you card number, CVV number on the back of the card and last four digits of your Social Security number or your full zip code.
You can hang up after you hear the balance, or wait and listen to other information, such as the amount and due date of your next payment. You can also ask to speak to a live agent if you have more questions.
Go to Citi.com and log in. If you haven't set up a Citibank online account, you can do so by providing several pieces of information, such as your name, Social Security number, account number and address. You'll pick a user ID and password. Once the system verifies you, you can use your new account (it doesn't take hours or days to activate).
When you log in, the first thing you'll see is two balances. The balance on the left is your current balance, the balance on the right is your last statement balance. If you want to see why your balance is where it is, scroll down to see all of the activity for this statement period. It will include any purchases, payments or refunds. If you want to see your last statement, which will include the amount of interest charged to your card, click on "View Statements."
You can also download and use Citi's mobile banking app from the Apple Store or Google Play. You can use it to check your balance, deposit checks, set up real-time notifications, check recent transactions and make payments. You can even perform investing tasks and sync your iPhone with your Apple Watch to use the app.
What Are Pending Payments?
You might notice that your card balance and available credit don't seem to match up. For example, you might have a $5,000 credit line and a balance of $3,500, however, your available credit number is only $1,000 instead of $1,500. That will occur if you have pending charges.
In this case, you might have made a $500 purchase that has not yet gone through, and Citi has placed a hold against your card for that amount. Until this charge goes through and is applied to your card, you won't see it reflected in your balance, but will see it deducted from your available credit.
If you're checking your balance online, take the opportunity to do some more research about your account. You can check your three annual percentage rates. Navigate to your latest statement to see the interest rate you're paying on purchases, balance transfers and cash withdrawals.
Doing this for all of your cards lets you know which one has the lowest interest rate. Rates will change if you have variable rate cards and the U.S. Federal Reserve raises or lowers the Prime Rate. You might have a balance transfer with a promotional rate that's about to end.
You can also check your credit score, if you have that set up, look for balance transfer offers or check out opportunities like signing up for shopping points or other perks.