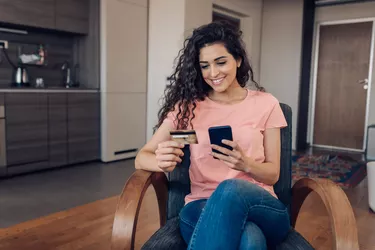 Maintaining a good credit rating depends on many factors, including your timely credit card payments and maintaining a reasonable credit usage percentage. With its Citicard credit cards, Citibank is one of the credit card companies that simplifies the process for making credit card payments by offering several options for making regular payments and staying within your spending limit.
Citibank Cards and Services
Citigroup is a multinational financial services group; Citibank is the consumer division that issues credit cards. The company is typically called "Citi" and the various credit cards they offer often are referred to as Citicards. In addition to helping you keep abreast of credit score updates, Citibank offers numerous credit cards – from rewards cards to cards for frequent travelers, cards that offer cash back on purchases and, of course, business credit cards. Some of the featured Citicards include Custom Cash and American Airlines AAdvantage credit cards.
Register Your Citicard Online
When you open a Citicard account, it doesn't automatically come with online access. Online account access enables you to monitor card activity, make payments and maintain your credit card profile without spending valuable time calling (and, possibly enduring long wait times) to make a simple address change or check your balance. The benefit of Citicard online access is the easy payment process. You can register your account online from your computer or download the Citibank app, available for Apple and Android phones. Once you register your card, enter and save your personal information, such as the bank account from which you want to draw your credit card payments.
When you register your account online, choose a password that's difficult to guess and, for added security, change your password frequently – every 60 to 90 days is often recommended for Internet users. However, despite the previously discovered flaw in the Citibank mobile app, it does not pose a serious risk to customers who make Citicard online credit card payments. You can use this app to make payments, schedule payments in advance or set up an automatic payment, which ensures that every month your payment is on time.
Alternatives to Online Payment
If your cyber comfort level doesn't rise to the level of sending online payments to your Citicard account, you have two other options: Mail your check or money order to the address listed on your credit card statement or call the customer service number listed on the back of your credit card and speak to an agent who will assist you. If you pay by mail, double-check that you include your credit card number on your personal check or money order in the memo section.
If you pay by phone, have your banking routing number and account number handy. Paying by phone ensures that your payment will be posted right away, but there is obviously lag time if you decide to pay by check through the U.S. Postal Service. Snail-mail delays are becoming increasingly more common, so reconsider using the pay-by-phone or online credit card payment option.