If you wire someone money with Western Union, try to get the name right, because it can be difficult to change the recipient's name after you send the money. If you realize you sent money to someone under the wrong name, return to the location from which you sent the money or call Western Union right away.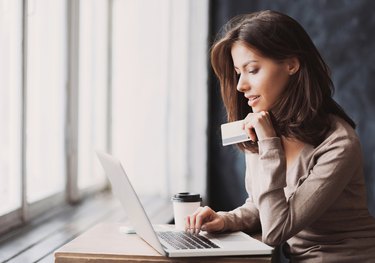 Sending Money With Western Union
Western Union allows you to send money to people around the world for a fee. You can either send the money online through Western Union's website, mobile app or phone line using a debit card, or go in person to a Western Union location and send the money using cash. Western Union locations include check cashing stores, supermarkets, convenience stores and other businesses.
You can have the funds deposited in someone's bank account, delivered to some cellphone wallet services in certain countries or make the money available to pick up at a Western Union location. To do so, Western Union will ask you for the full legal name and location of the person you are sending the money. That person, and only that person, can pick up the money. He will have to show some form of identification to prove he is the correct recipient, and provide the transaction number that you received upon sending the money.
Western Union also sells money orders, which are essentially prepaid checks made out to a specific person. To cash or deposit a money order, you generally also need to show identification that exactly matches the name on the money order.
No matter how you're sending the money, it's important to make sure that you know the complete legal name of the person you're paying. If you're not totally sure, it's a good idea to confirm that information with the person you're sending money, in case you know her by a nickname, middle name or a different surname than that displayed on her government-issued ID.
Changing the Recipient Name
Of course, mistakes do happen, and Western Union customers will inevitably sometimes misspell or misstate the names of people they are sending money. If this happens, go back to the Western Union location where you sent money if it is the same day, or give Western Union customer service a phone call.
You may not be able to change the name on a money order, on a transfer to a bank account or certain other types of payments. While slight name corrections are permitted, more elaborate name changes generally are not.
Canceling the Transfer
In the worst case, you can generally cancel a money transfer if it has not been picked up, either by visiting the location where you sent the money if it is within 24 hours of the transfer or contacting Western Union customer service. Depending on the exact circumstances, you may get a full refund or may be charged some of the initial sending fee. If you are unable to change the name on a money transfer, you should be able to cancel it, get a refund and send another transfer with the correct name.