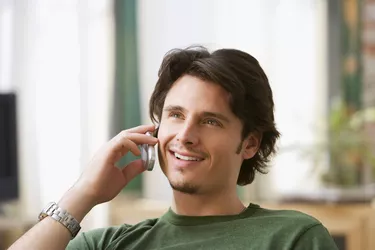 One of the advantages of using a money transfer service like Moneygram is trackability. You have the ability to verify that the funds were picked up or sent to the recipient's account. Moneygram tracking information can be important if you are repaying a debt, making a bill payment or depositing funds into an inmate account.
Moneygram is a money transfer service. You can send funds through the Moneygram website, mobile app or by visiting a Moneygram agent. Agents are usually found at currency exchanges, check cashing services, grocery stores and big-box stores.
One of the advantages of transferring funds using Moneygram is that it allows the person receiving the funds to choose how he wants to collect them: He could opt to receive the money in cash, have it loaded onto a debit card or have the funds direct-deposited into a bank account. It is also possible to use Moneygram to send money to the jail or prison accounts of incarcerated individuals.
Senders likewise can use cash for transactions when making a payment through a Moneygram agent. According to the Moneygram website, most agents will only accept cash payments for transfers. If you want to use a credit or debit card, you'll need to make your payment online or through Moneygram's mobile app.
Moneygram Tracking Options
Moneygram issues a reference number when it completes a money transfer. This number appears on the receipt for the original transaction, as well as on confirmation emails. You can use the reference number, along with the last name of the payee, to look up the status of the payment on the Moneygram website or mobile app.
As with most financial services, there are some expenses and risks to be concerned about when using Moneygram:
Senders are responsible for transfer fees. Fees are based on the amount you'll be sending, so be sure to budget for these fees. If you will be taking cash to a Moneygram agent, ensure that you have enough to cover the amount that you need to send plus fees.
Agents are required to check the recipient's government identification documents before releasing funds and many will refuse to hand over the cash if the name you provide does not exactly match the name on the card or passport. Verify how the recipient's name is spelled and ask if the name you call the recipient is the name on the recipient's ID.
Tip
Keep in mind that many people use nicknames or even their middle names socially, so don't assume you know someone's legal name.
As the Washington State Attorney General's website notes, Moneygram is often used by financial scammers because once funds are sent through the service and received by the payee, it is almost impossible for the sender to get funds back, even if the transaction is the result of fraud.
1. If making an online purchase, be wary of a seller who wants you to pay for an item using Moneygram. You have no buyer protection if the seller fails to send or misrepresents the item. Use a credit card or other payment method, instead.
2. Verify the identity of anyone requesting funds through Moneygram. A typical scam is one where the perpetrator contacts you via text message, instant message or email and claims to be traveling and in distress. The scammer will claim that she has been robbed or is in some other kind of trouble and needs you to send her funds via Moneygram (or another wire service, such as Western Union). The scammer receives your funds in cash and is never heard from again.
If you have been defrauded by someone using Moneygram, file a report with Moneygram and law enforcement. Moneygram can't guarantee you'll get your funds back, but it can investigate what happened and cooperate with a law enforcement investigation.