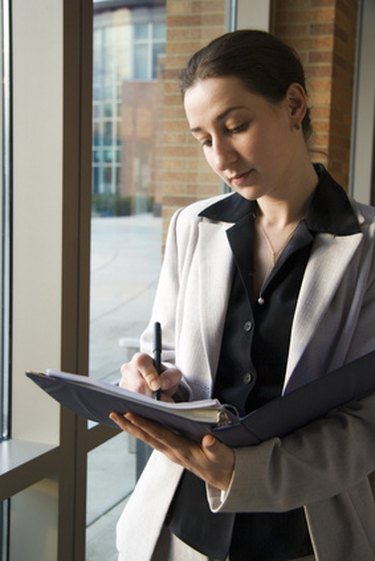 The United States has more attorneys than any nation on earth. There are areas of law for virtually everything, but one of the most popular careers for many Americans is that of a divorce lawyer. This type of attorney guides a couple through the legal and financial process of divorce and develops an agreement upon marital assets. The amount of income a family or divorce lawyer makes a year can be influenced by several factors.
Qualifications
Every attorney, regardless of the type of law being practiced, must graduate from an accredited law school and pass the bar exam for the state they wish to practice in. However, even this often only gets someone as far as an internship or paralegal type of position. Specialization and experience will be the key to becoming a partner at a firm or being successful in your own practice.
Location
As with virtually all industries, the salary a divorce lawyer is paid can vary greatly by location. Areas that have more affluent clientele will probably justify higher attorney fees. Cost of living also plays a major part in determining salaries. An attorney in general averages between $68,962 and $122,218 in the state of California, but in Illinois he or she will make an average of $52,281 to $98,476.
Even within the same state, wages can be widely different. A lawyer in Los Angeles will average $70,563 to $126,464, but will pull in $79,368 to $144,875 in San Francisco.
Type of Employer
Some attorneys wish to help struggling couples by working for a non-profit organization. In this case, the average salary will range from $44,534 to $68,289. Self-employed divorce lawyers who work freelance or own their own small firm pull in between $57,530 and $124,829 a year. Private firms pay their attorneys between $56,199 and $104,092 on average, but the size of the firm can also greatly influence salaries. For example, a firm with 10 to 49 employees will have a pay range of $57,874 to $96,411, but a company with 600 to 1999 employees will pay its attorneys $87,196 to $163,861.
Other Factors
Naturally, each divorce attorney's credentials will play a part in his or her salary through a career. A graduate of Harvard law, a prestigious law program, will almost definitely start out and maintain a higher salary than a lawyer who graduated from a lesser known school. Experience is probably the most valuable bargaining tool when it comes to determining salary. At the lower end of the spectrum, a lawyer with zero or one year of experience will have an average salary range of $46,000 to $70,000. An attorney with twenty years of experience or more however will likely receive between $88,360 and $156,000 a year due to the fact that he or she has moved up in a firm or developed a positive reputation.