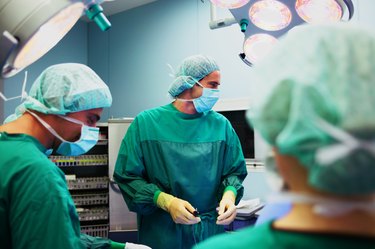 Though becoming a surgeon of any sort requires years of expensive education and training, heart surgeons make a conscionable living helping the ill and making good money doing it. In fact, physicians and surgeons are among the highest-paid professionals of any occupation. The U.S. Bureau of Labor Statistics estimates a 22 percent job growth rate between the years of 2008 and 2018, with healthy pay and benefits starting at the entry level.
Entry-Level Salaries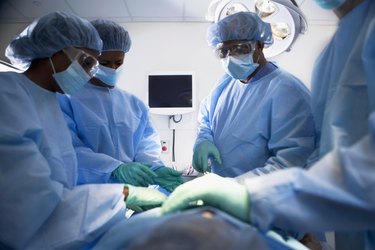 According to 2010 figures from the global compensation database PayScale, the salary of a starting cardiac surgeon is about $151,416 per year, or up to $154,083 with added bonuses. Entry-level cardiothoracic surgeons make about $141,626 per year as of late 2010. In comparison, cardiovascular advanced registered nurse practitioners in 2011 earn a median annual salary of about $70,886. The Bureau of Labor Statistics reports the median annual compensation of a physician practicing a medical specialty was $339,738 in 2008, while 2011 PayScale reports list the median annual salary of a heart surgeon at $280,000 with cardiothoracic surgeons earning $229,565 annually.
High-Level Salaries
Experience greatly influences the salary of heart surgeons. Top-level heart surgeons in 2010 earned about $386,181 per year. Similarly, cardiothoracic surgeons received annual salaries of about $358,987. With bonuses factored in, high-level heart surgeons in 2010 earned about $401,340 per year according to PayScale reports. The American Medical Group Association reports even higher numbers, placing the average salary of experienced cardiac and thoracic surgeons at $533,084 in 2010. At the very top tier, the University of North Carolina paid an experienced heart surgeon an annual salary of $600,000 in 2010.
Salary Bonuses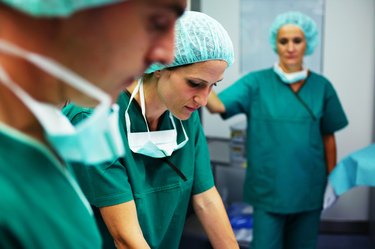 Some cardiac surgeons receive commission, adding an additional $495.79 to $5,896 to their salary every year. Others receive profit-sharing bonuses ranging from about $1,008 to $12,208 as of late 2010.
Benefits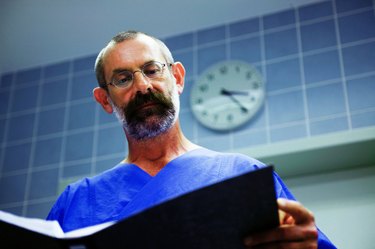 As of 2010 data, 87 percent of cardiac surgeons received medical benefits. Similarly, 60 percent of those medical professionals had dental benefits while 47 percent received vision coverage. Only 12 percent of all heart surgeons in 2010 did not have any sort of health benefits. This figure contrasts with the number of Americans without health insurance in 2010, about 16.7 percent or 50.7 million.