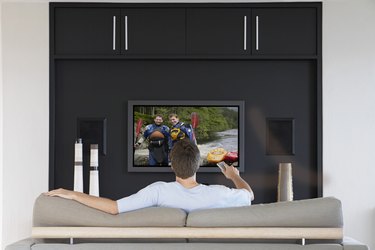 Verizon's FiOS service is supposed to be a package deal that saves the subscriber some money. As of 2014, it bundled phone, Internet and high definition television service at a starting price of $89.99 a month. If that's still too much, there are ways to cut the cost even more.
Plan Changes
Verizon FiOS plans and packages constantly change. If you aren't locked into a contract, you can always explore the current plans and switch to something else. Cut out any features you don't necessarily need, such as a digital video recorder or high-definition channels. You can drop your Internet connection to a lower speed or switch to a basic, no-frills connection. For example, basic FiOS internet started at $49.99 a month in 2014.
Locking in Savings
Although Verizon FiOS offers service without a long-term commitment, a contract is often the cheaper option in the long run. According to Verizon, if you upgrade your service to a 2-year contract, you could save by locking in the rate.
Discounts and Rewards
Some companies are enrolled in the Verizon Connections discount program that offers savings to employees. To check eligibility online at Verizon.com, enter your work email address or verify employment. Verizon FiOS offers the Rewards + program that allows you to earn prepaid Visa gift cards or other merchandise. Once you sign up, you'll earn points for various things, such as renting movies, paying your bill online or referring friends to join FiOS.