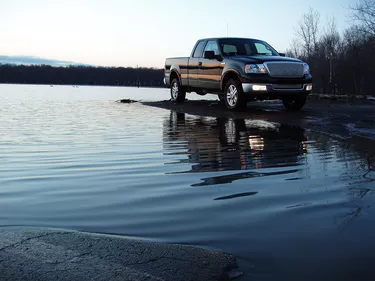 Included as a feature on many GM vehicles, OnStar is a popular service for getting help during a car crash or other crisis, receiving directions and requesting basic roadside assistance services. If you're wondering how to get the best deal on OnStar, you should pick your plan and billing option wisely, explore the first responder discount and see if you can get an OnStar free trial. You should also be aware of some limited free services available and the possibility of saving through your car insurer.
Consider Your Plan and Billing
Even if you're eligible for an OnStar free trial or discount, you'll want to choose the right plan to minimize the costs over time. This means looking at how plan features compare and thinking about which you plan to use most. For example, it wouldn't make sense to pay extra for a Wi-Fi hotspot in your car if you just use your phone with mobile data.
The basic OnStar Safety and Security plan with popular features is advertised in mid-2022 at ​$29.99​ monthly, while the ​$39.99​ Essentials plan has extras like your vehicle location, remote key fob access and on-demand diagnostics. Paying ​$49.99​ for the OnStar Premium plan gives you Amazon Alexa and in-vehicle tools for streaming, getting navigation and using Wi-Fi. You can also pay individually for certain services such as ​$25​ monthly for unlimited mobile data or ​$14.99​ for remote access.
When signing up, you can save some money paying for the whole year at once instead of monthly. You can start the signup process online to see the prices for each billing option, or you can call OnStar for more details.
Get the First Responder Discount
While you might sometimes find short-term offers like OnStar Black Friday deals, the company's ongoing discount program is only for public safety professionals such as police officers, paramedics and firefighters. If you qualify, you can get a maximum ​20 percent​ discount on the various plans available for your GM vehicle.
OnStar instructs you to use your vehicle's blue OnStar button to get an advisor to help you sign up with the discount. Part of the savings program also includes discounts on certain General Motors vehicle purchases.
If you haven't already taken advantage of an OnStar free trial for your GM vehicle, you can get a total of ​three months​ of OnStar service free by going through the online or in-car activation process. It starts with one month of free service that depends on your car's year.
All GM cars since 2006 get navigational assistance along with the OnStar Safety and Security plan. However, vehicles from 2011 and later get remote control abilities. Cars released in 2015 and later also get 4G data plans and Wi-Fi hotspot abilities.
You have the ​first 15 days​ of that trial to provide OnStar with a payment method and plan selection. In exchange, you'll then get ​two free months​ added to the trial. After three months, OnStar bills your on-file payment method monthly unless you cancel.
Use the Free Connected Services
Although you won't get the security and safety features that come with the main OnStar plans, you can usually receive up to ​10 years​ of free OnStar Connected Services when you buy a new GM car. This limited option will let you see your driving performance, check your car's diagnostics (such as oil life and tire pressure) and use remote controls to unlock the door, sound an alarm and flash your lights. You'll usually access the features through your car manufacturer's app such as the MyChevrolet app.
Get Insurance Discounts for OnStar
Along with knowing how to get the best deal on OnStar, you should consider additional savings your car insurance company might offer you as an OnStar member. Since the service can track your driving behavior and offers emergency help, insurers are often willing to give you a break on your premiums if you meet certain requirements.
For example, Nationwide provides a SmartRide discount to OnStar customers who enable sharing their driving data. In addition, Plymouth Rock Assurance offers a general discount as soon as you reach year two as an OnStar member. You'll want to ask your insurer for specific discount options and amounts.