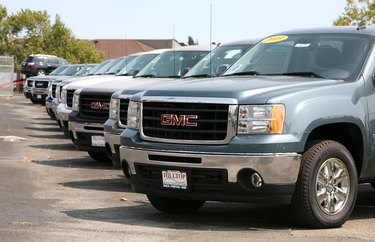 OnStar is a safety device that is installed in most new GM vehicles, as well as some older vehicles. The OnStar service offers hands-free calling, an emergency button and an instant connection to an OnStar adviser for a variety of services. If you are interested in subscribing to the OnStar service, or if you are a current subscriber, you may be able to save a little money on the subscription fees.
Step 1
Ask your car salesperson for an OnStar discount if you are purchasing a new vehicle that comes with OnStar. You can negotiate it into the price of your car purchase just like anything else.
Step 2
Call OnStar customer service at 888-466-7827, if you are current subscriber, and ask for a discount. The customer loyalty department typically honors a discount offer of $148 for 14 months as of February 2011.
Step 3
Get a job with GM, if you are qualified for any open positions in your area. The GM website (see Resources) lists current open positions with the company. As of February 2011, the GM Family First discount saves you 25 percent on a 2007 model year or newer vehicle. Older vehicles also have discounts.