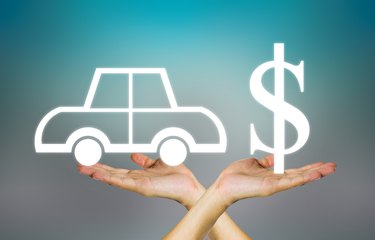 As the website prominently notes, AutoTrader.com "is an online vehicle listing service that connects car buyers with sellers." Sellers can list details about the vehicle, their contact information and the price. Buyers can browse through the listings or search for a particular make and model. AutoTrader.com doesn't facilitate the transaction -- it's just the mechanism for the parties to communicate. It also has facts on vehicle trade-ins, car loans and insurance, and provides links to research cars and local dealers.
Selling Your Car
AutoTrader.com has different packages to sell your car, each of which has distinct features and its own price tag as of 2015.
Standard: Your advertisement runs for four weeks and costs $25. You're allowed to have up to three photos, with an additional cost to add more.

Enhanced: The ad runs for eight weeks and costs $50. Up to nine photos are allowed at no additional charge.

Deluxe: The ad runs until you sell your car and costs $75. You can add up to 18 photos.

Premier: The ad runs in the Featured Spotlight position for 14 days. It runs until you sell the car and cost $100.

Writing Your Ad
The first step is to enter your vehicle details. AutoTrader.com asks for the zip code where the vehicle will be sold, then has you input the year, make, model, body style, mileage and sale price of the car.
Tip
When it comes time to price your vehicle, AutoTrader.com lists the price range for similar vehicles available in your area. You'll see the total number of cars, the lowest price, the highest price and the average price. You'll also get links to the Kelley Blue Book and the AutoTrader.com valuation tool to help you set a competitive price.
The detailed vehicle information fields are optional, but the site notes that the more details you include, the more activity your listing is likely to get. Failing to check the box for "Backup Camera," for example, means your car won't show up if an interested buyer is searching for that.
You can then include your up to 2,000 characters of additional comments. If you have detailed maintenance records, warranty information or vehicle modifications, let prospective buyers know. You also can click on a series of phrases that apply to your vehicle, such as "never seen snow," "perfect first car" and "only one owner," to add to your copy. This description can be changed at any time after you place the ad.
Finally, you'll enter your phone number and e-mail address. The phone number is the one that interested buyers will use if they have questions, so choose which number you provide with care.
The photos come last. You can buy more than your ad plan allows up to a maximum of 27. With the Premier package, for example, it costs an extra $5 to go from 18 pictures to 27. You do get the chance to review how your ad will look before completing your purchase.
Tip
If you run into problems placing your ad, you can call AutoTrader.com at 1-866-331-8237. Lines are open from 8 a.m. to 9 p.m. Monday through Friday, and 9 a.m. to 7 p.m. on Saturday. You can also use the on-site customer service widget to send an e-mail with your question.
Additional Features
You can add an icon and link to an AutoCheck report of your vehicle history for $25, and upgrade your ad placement to a premium listing for $20. Running your ad simultaneously on KBB.com -- the Kelley Blue Book site -- costs an additional $20.
Some of the offerings depend on the original package. If you choose the Standard package, for example, you can increase the display time from four weeks to "until it sells" for $25, and spotlight your ad for $45.
Security Features
All AutoTrader.com ads include its Privacy Email service. This shows visitors an anonymous e-mail address. You can respond to inquiries via the site Ad Manager, which maintains anonymity, or wfrom your personal inbox.
AutoTrader.com also has a Safety and Fraud Awareness page. Among its suggestions: get information about the prospective buyer in advance, meet in a public place, and select your test drive route in advance to avoid secluded locations.
Other Services
AutoTrader.com partners with participating dealers to provide instant offers on trade-ins. You'll type in the information about your car and its condition, and receive offers based on that assessment. The offer then is redeemable at one of the dealerships that works with AutoTrader.com, though the dealer has the right to inspect the car first.
You also can fill out a loan application to see your financing options, and get a quote from Geico for car insurance.