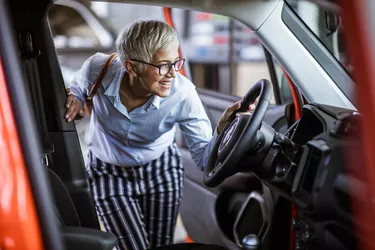 Walking into a dealership to purchase a new car or a used car is daunting for many people. Using a car-shopping website like CarGurus.com may offer a potential buyer some peace of mind. But is it too good to be true, and what are the pros and cons of using this website?
Founded by Langley Steinert in 2006, CarGurus is an automotive conduit for buyers to see car listings. CarGurus highlights both new cars and used cars and makes it easy for the buyer to contact the seller.
Besides buyers, sellers also use CarGurus as a virtual dealership to show their car listings. Both private sellers and dealerships can take advantage of this car automotive shopping website.
CarGurus uses big data to make automotive shopping easier. They take advantage of proprietary algorithms and data analytics to let the buyer know what a fair price is and, consequently, the best value.
One of its features is its Instant Market Value (IMV). This is CarGurus' fair retail price calculation and is based on a comparable listing. CarGurus also considers customer reviews.
This is different from competitor Autotrader. Autotrader relies on the Kelley Blue Book to determine a vehicle's value.
All businesses have pros and cons. But when making a big purchase, like a vehicle, having the correct information is essential. You'll need to decide if the pros outweigh the cons.
Question and Answer Board Pro
The Question and Answer Board is a community where you can have your questions answered regarding different vehicles. It's free to all site users. You must set up a profile to pose a question or give an answer.
Categories that the Question and Answer Board addresses include pricing, maintenance, car customization and general questions.
Users provide unbiased customer reviews since they are not part of the vehicle marketing.
Besides the general public answering your questions, CarGurus staff, or gurus, participate in the forum.
CarGurus uses big data to make automotive shopping easier.
Unlike most websites in the category, CarGurus has an easy app that's easy to find and use. In addition, it can be downloaded for both iPhone and Android.
You'll be able to determine if a seller is offering a vehicle at a fair price by using the Trade-in Value Tool. This tool analyzes over four million car listings per day. It can give you an accurate estimate of a used vehicle trade-in or private sell value.
The CarGurus search filters allow you to narrow down your search based on your parameters. For example, if you're looking for a Toyota or BMW, it's easy to filter out the rest. You can take that BMW search down to the model, year and mileage. Then if your top pick is with a car dealership, make a phone call and set up a test drive.
The search filter makes car buying easier. You don't need to go through several dealers' websites to find the used vehicle or new car you want.
Pre-Qualify With CarGurus Pro
Besides looking for a new or used vehicle, you can get pre-qualified. It helps narrow down your search by letting you know what you can afford. It starts the ball rolling faster when you finally walk into that car dealership.
If you want to purchase a vehicle, your payment can be made online. There are qualifications, prerequisites and restrictions, but the mechanism is available.
CarGurus Will Vet Buyers Pro
A seller can limit themselves to only dealing with vetted buyers. These are people who have uploaded an ID and have been found to be valid and legitimate. Third-party tools are used to verify this.
CarGurus Charges to List Con
At this writing, CarGurus charges $4.95 to list a vehicle for 30 days. But compared to Autotrader, which charges $49 per listing, it's inexpensive.
No Physical Inventory Con
CarGurus is not a dealership. They don't have any physical inventory. This means that if you find a vehicle you like, you'll need to take the extra step to contact the seller or car dealership.