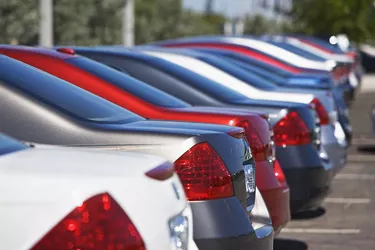 If you're considering CarMax for your next used car purchase, you can expect simple, stress-free car buying. With a complete online CarMax store, 236 physical CarMax locations nationwide, and nearly ​3 million​ cars, it's easy to see how the company sold over ​1.5 million​ vehicles in the last fiscal year. But does the CarMax price and experience meet or exceed what you expect at another dealership?
CarMax does a 125+ point inspection and won't sell a vehicle unless the title and vehicle history report are clean. All vehicles are checked for flood damage, and you can view the AutoCheck report for every vehicle you see.
Test drive any car at a CarMax location. You can also request a 24-hour test drive on any eligible vehicle. You will need to provide your driver's license, proof of insurance, and will have 24 hours to test out the car.
No-Haggle Pricing at CarMax
Anyone who has experienced car shopping at a car dealership with high-pressure salespeople can tell you that the no-haggle pricing at CarMax is a relief. When you shop at carmax.com or a physical CarMax store, the sticker price is the price you will pay. When browsing the used vehicles at CarMax online, you can enter the price range that fits your budget and start from there.
Keep in mind that no-haggle goes both ways. Don't expect to find your dreamy new car on the lot and make an offer; that's not how it works at CarMax.
How Does CarMax Financing Work?
Once you know your budget, you can get pre-approved for an auto loan from an outside lender or apply for a loan with CarMax Auto Finance. The financing option you bring to CarMax doesn't affect your car price.
If are approved for CarMax financing but are offered a more affordable down payment option and lower monthly payment with a different lender, you can use the CarMax Three-Day Payoff Program at no cost.
Anyone who has experienced car shopping at a car dealership with high-pressure salespeople can tell you that the no-haggle pricing at CarMax is a relief.
Paying for a Car at CarMax
When using CarMax financing, you'll set up a MyCarMax account to make payments online. You can also mail monthly payments or send them with Western Union or MoneyGram. Your first payment date is your choice, up to 45 days from the date of your contract signing. You can manage your account online and find answers to financing-related questions on the CarMax Auto Finance FAQ page.
Your down payment is due at the time of purchase and may not be paid with a credit card. You may pay electronically from a bank account, present a personal check or use cash or a debit card.
What Documentation You Need
If you are buying the car online or in person, you will need to present a valid driver's license, proof of insurance and proof of your address, income and phone number.
CarMax No-Haggle Used Car Trade-In
Selling your old car to CarMax is the same no-hassle process. You can bring your used car with you for appraisal, or if shopping from home, you can start the trade-in process online by providing basic information.
CarMax will provide you with a non-negotiable trade-in offer that is valid for seven days. If you accept the offer, you need to bring the car to your nearest CarMax location to confirm the car's condition. The trade-in value may be adjusted if the car doesn't meet expectations.
Know your car's value; check Edmunds or Kelley Blue Book. Comparison price at other retailers or consider a private sale if the CarMax offer isn't what you expected. If you are concerned less about the dollar amount and convenience is your main priority, CarMax makes the process truly hassle-free.
CarMax Warranties and Return Policy
CarMax offers the peace of mind of a 30-day return policy and money-back guarantee. If the car has been driven less than 1,500 miles since purchase and is in acceptable condition, you may return the vehicle to CarMax for a full refund.
Every used vehicle at CarMax has a free, 90-day or 4,000-mile limited warranty and the option to purchase MaxCare extended service plans to cover major systems.
Taking Ownership of Your New Car
Like most of today's car dealers, CarMax will provide home delivery of your new car if you live within 60 miles of a local CarMax. You may also request that your car be shipped to a nearby CarMax location. Depending on where the car needs to be shipped to and from, you may incur a charge for shipping, but delivery is free in select markets where it is available.
Is Buying From CarMax for You?
The used-car pricing spike hasn't tapered off much yet, so if convenience isn't as important to you as ensuring that you get the most for your dollar, you may want to shop around at other dealerships, private sellers and online retailers like Carvana. But if the no-haggle, no-hassle experience and quick, one-stop trade-in and purchase are at the top of your list, give CarMax a try.