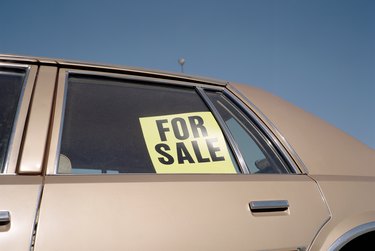 When you have a used car to sell, you might consider a private sale if you want to get the most profit in your pocket. But if you want a quick, no-haggle, hassle-free deal and prefer having someone else do the paperwork, it's worth looking into selling your car at CarMax.
CarMax Offer for a Used Car
CarMax makes getting an instant offer for your car simple. You can request a quote for your old car online through carmax.com or schedule an in-person offer at a CarMax dealership.
To request a quote online, choose "Sell/Trade" on the CarMax website and complete the offer request form that appears. If you want to go in person, fill out the appointment form. Online or in-person, you'll need some very basic information about your car to get a CarMax offer started.
License plate number and state
ZIP code
Phone number and email address for an appointment
This minimal information will get an offer generated. Should you decide to sell to CarMax, you will need to provide anything else required by your state to sell a car.
Can I Sell My Car Without Buying?
Like Carvana and many physical dealerships, you don't need to purchase a car from a CarMax location to sell your vehicle there. With the supply chain not entirely smoothed out and the global chip shortage still leaving its mark, used-car demand and pricing are still high.
Many used car dealers are still short on certain makes, like Honda, Hyundai and Toyota and some hybrid and fuel-efficient models. Some dealerships will offer cash to turn your old car into their new inventory to fill their lots. CarMax is no exception.
Using the basic information you provide and considering other factors, CarMax will instantly generate an online offer or written offer for your car that is good for seven days.
How CarMax Determines an Offer
Using the basic information you provide and considering other factors, CarMax will instantly generate an online offer or written offer for your car that is good for seven days.
The other factors CarMax considers include market trends, the demand for your specific make and model and the car's condition, mileage and vehicle history report. If your car doesn't meet the requirements to be sold through CarMax, they will need to sell it at auction, so your appraisal offer will be low.
If your car passes the CarMax 125+ point inspection, you can expect a better price, but remember, like all car dealerships, CarMax needs to turn around and sell your old car to a new customer.
You are unlikely to get an offer that matches what you might earn as a private seller or comes close to the true market value of your car on Edmunds, Autotrader or Kelley Blue Book, for instance. However, the market value of your car is essential to know how far the offer is from that number.
Will CarMax Let Me Negotiate?
The no-haggle pricing that CarMax promotes to car buyers also applies to you as a seller. You'll get a no-haggle CarMax offer that is firm and valid for seven days.
From CarMax Offer to Sale
If you accept the offer for your car, you will bring your vehicle to any local CarMax store for a test drive and confirm the car's condition. The offer amount may be adjusted if the vehicle condition does not match the original appraisal. CarMax does not pick up service to finalize a used car sale.
Once a price is agreed upon, you must provide all the documentation your state requires to sell a car. Items your state is likely to require include the car title, the driver's license or state photo ID for all titleholders, vehicle registration, payoff information, lien release, keys, fobs and remotes. If you have a co-signer for your car, you'll need their signature to sell the vehicle.
Once the paperwork is complete, CarMax will generate a bank draft, which is a secure payment that must be deposited into a bank account. Unlike a cashier's check, a bank draft cannot be exchanged for cash.
You will have negative equity if your automotive loan balance exceeds your CarMax offer. If your old car is a trade-in for a new CarMax car, the amount you still owe can usually be rolled into your new financing. But if you sell outright, you'll need to present CarMax with a personal check for payoffs under $250 or another accepted form of payment for larger amounts.
Selling your used car to CarMax can be fast, convenient and no-hassle. You have very little to lose if convenience is your main priority when selling. However, a private sale might be for you if your car is in high demand and you are looking for the highest payoff. Before you decide, the CarMax process is so simple that it doesn't hurt to get their no-hassle quote to satisfy your curiosity.