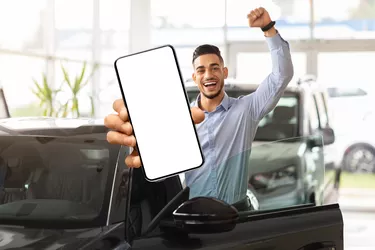 When it comes to car shopping, gone are the days of doing laps around a local dealer's lot, peering at window stickers and spending hours in the sales department haggling over the manager's best price. Online car buying has changed the car buying experience for good.
While you may not have to show up in person for the deal, your car buying preparation and research should be just as diligent. Enter dealer websites the same way you'd enter a brick-and-mortar dealership: with a price in mind and a plan.
How many times have you walked onto a car lot with a price in mind, only to get swayed into a bigger car loan than you expected?
Before you get into the online car buying process, get into the nitty-gritty of your personal finances to find out what you can afford to spend. Know what down payment you'll enter the deal with and what kind of monthly payment your budget can support.
Once you have a figure in mind, Edmunds.com has a car affordability calculator to help you figure out the best cars in your budget, but you'll need a few more key pieces of information to use that tool. The next things to prepare and research are your trade-in value, loan term and the interest rate on your car loan.
The microchip shortage is still in play, meaning new car inventory is still down, and used vehicle trade-ins are still a great bargaining chip for car buyers negotiating the purchase of a new or used car. And with the way dealerships are going up and over MSRP on new car prices, you will want to maximize your buying power.
Kelley Blue Book, Carfax and Edmunds are some excellent starting points for researching your trade-in value. It's also a good idea to look at local dealerships' websites to see what your make and model are going for nearby.
After you've established a good ballpark for the worth of your trade-in, decide whether you want to bring it to the dealership or sell it on your own. While selling it privately might take more time and effort, it may happen faster than you think in today's car market.
If you negotiate the trade-in offer at the dealership, be firm and don't take less than what you have learned your vehicle is worth.
You'll need to have an idea of your trade-in value to get preapproval on your car loan. According to Navy Federal Credit Union, you may negotiate a better purchase price with that preapproval in hand.
Secure Car Loan Preapproval
The next step is to go to your bank or credit union and get preapproved for financing. Check online lenders, too. Once you find the loan amount, interest rate and monthly payment you qualify for, you solidify your budget and have more control over your negotiation.
According to CreditKarma, having outside financing keeps you from relying on dealer financing, which puts you in a stronger position during the car buying process.
You'll learn your credit score during the auto loan approval process, which may qualify you for special financing at the dealership. Experian notes that multiple credit checks for a car loan within a short period of time will generally only be counted once against your credit.
You're not held captive in sales department territory when you buy online.
Shopping for the Right Car
All of this research is in preparation for the fun part: finding your next car online. If you have an idea of what you are looking for and which dealerships you might shop, start by checking online customer reviews and consumer advocate websites like Consumer Reports for helpful information. Edmunds has a feature that lets you make side-by-side comparisons of new cars online.
Most dealerships will give you an estimate of how many particular models they have in their inventory. There is also the option of getting one transferred from another dealership or special ordering from the factory. The supply and demand of the new vehicle you are looking for may affect your vehicle's wait time and price.
If you've identified a few cars in stock at a local dealership or through an online dealership like Shift or Carvana, you'll be prompted to contact a salesperson to further get into the car buying process. This is a good thing because you're bound to want an experienced salesperson to answer your questions when considering such a big purchase.
You know your budget, have a good idea of what your trade-in is worth and are familiar with the prices of cars you are interested in. Now it's time to work with the salesperson to get the best purchase price. Most dealerships upped their online sales game during the pandemic to offer full remote support for car buyers.
Have your figures down on paper so you have everything you need for the deal. If you don't want the extended warranty or upgrade package, get that out on the table before the sales pitch begins.
Stay strong and don't feel pressured. You're not held captive in sales department territory when you buy online. It's a beautiful thing to be able to easily and politely excuse yourself and move on to the next dealer within minutes.
You can set up a dealer visit and test drive the new vehicle. If you are purchasing from an online dealership, your car purchase may include an at-home limited-time return policy in place of a test drive. Driveway and Carvana both offer seven-day money-back guarantees, which are like extended test drives.
Like all returns, those policies kick in after the sale (and all of the hard work you put into it) and are subject to the dealer's rules and regulations. Doing an in-person test drive before you go through with the car purchase may save you time and red tape.
Seal the Deal, Get the Car
After all of your homework as a careful consumer, it's time to take care of the paperwork and arrange to take delivery of your new car.
If you worked with a local dealership, you might decide to schedule a pick-up in person. Or not. You can always arrange to have your car delivered right to your driveway. Wherever you take delivery, give the car a good look before signing on the line. Ensure the vehicle is in the condition you expect, has the features agreed upon and that there are no surprises.
If anything doesn't seem right, get in touch with your salesperson. If all looks good, take possession, call or email your auto insurance agent and enjoy the road ahead.