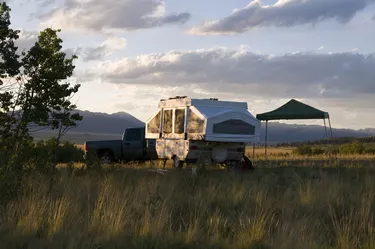 Whether you want to buy or sell a pop-up camper, it's important to determine its value before completing the transaction. While there's no Kelley Blue Book for campers, you may use other resources to get the pricing right. These vehicles are cheaper and easier to tow than motor homes, but some models can run into five figures depending on their condition, size and features. Expect to pay more for a hard-sided model or one with shower fixtures, a toilet and other premium amenities.
Visit auction websites, local dealerships and online marketplaces, like eBay and Craigslist, to compare prices for used pop-up campers. Most sellers are open to negotiation, and some may accept trade-ins.
Research the Model You Want
Pop-up campers are lightweight, portable and budget-friendly, making them ideal for outdoor enthusiasts. Most models can be towed by a small van or SUV and are compact enough to fit in any campground. Just like motor homes, van campers and travel trailers, these structures are classified as recreational vehicles, or RVs, and must comply with the relevant regulations. For example, campers registered in Oregon must be at least 6 feet long and 5.5 feet tall and have basic amenities, such as sleeping and cooking facilities, according to the Oregon Department of Motor Vehicles.
If you're ready to buy a pop-up camper, or tent trailer, research the model you're interested in and check your state's laws. For starters, head over to the National Automobile Dealers Association (NADA) to review and compare pop-up campers from different brands. The RV values on NADA Guides are based on the vehicle's make and model, year of manufacture, floor plans and amenities. Some models cost as little as ​$600​, but you could end up paying over ​$20,000​ for a pop-up camper with air conditioning, LED ceiling lights or solar panels.
Consider the type of heating system you'll need, suggests the Michigan Association of Recreation Vehicles and Campgrounds. You could use a thick blanket when it's cold outside, but it may be worth paying extra for a camper with a heated mattress or built-in furnace. Also, hard-side pop-up campers are more stable and durable than soft-side models.
Once you have decided on a model, check out auction sites and online marketplaces to compare prices for used pop-up campers. Start with Camping World, the "Blue Book" for RVs. The website features over 8,000 tent trailers starting at ​$7,000​. Select the model you're interested in and then make an offer, schedule an appointment or apply for a loan. On each product page, you can see the vehicle's brand, mileage, weight, measurements and features along with relevant photos.
Another great resource is RV Trader, which offers more than 800 pop-up campers starting at $600, but you can make an offer and negotiate the price. Some sellers also accept trade-ins, so you may be able to exchange your old camper for a different model. Meanwhile, check out Lazydays, RV Universe, General RV Center and Fun Town RV for more options. You might also find a good deal on eBay or Craigslist, but it's safer to buy from a dealership.
Visit Local RV Dealerships
RV One Superstores, Giant RV, Travelcamp RV and other dealerships feature hundreds of campers for every budget. Camping World has several locations throughout the U.S., and it should be easy to find a dealership in your area. RV dealers are better prepared to answer your questions compared to a private seller and may offer some sort of financing. Plus, they can help you with the title transfer, car registration, RV insurance and other legal aspects.
If you choose to buy a pop-up camper on eBay or other websites, you'll likely have to pay in full. Dealerships, on the other hand, may allow you to make monthly payments or rent the vehicle instead of buying it. What's more, they may offer higher-quality RVs and greater buyer protection than an online marketplace.
Last but not least, RV dealers can help you choose a camper that fits your lifestyle and driving habits without breaking the wallet. Chances are they may also arrange for a test drive and offer a warranty on the campers they sell.