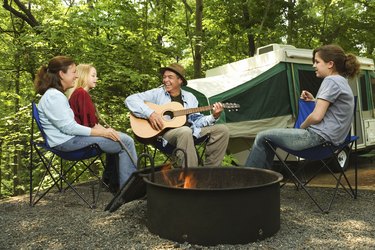 Pop-up camper values are dependent on age, condition, and amenities and features. Before you buy or sell this type of pull-behind recreational vehicle, do some research to make sure the value of the make and model is on target. This helps when negotiating a price with a buyer or seller.
Consult a Price Guide
Research the camper's value through a national consumer guide like NADA Guide or RVTrader.com. Much the way Kelley Blue Book and Edmunds are respected resources for car pricing, pop-up camper guides allow you to input details about the age, model and condition of a vehicle and in turn give you an estimated price range.
Talk to a Loan Officer
Whether or not you're planning to finance a pop-up camper, ask for a consultation with your personal bank's loan department. Many banks offer loans for recreational-type vehicles and should be able to tell you the value of a model. You may be required to have the vehicle identification number for your bank to perform this service.
Go Online
Check out online auction sites to see what similar pop-up camper models are selling for on the open market. Search sites like Camping World and Camping Earth, which post listings of pop-up campers for sale. This allows you to browse by category and get an idea of asking prices.
Visit an RV Lot
Many recreational vehicle dealerships sell both new and used pop-up campers. Visit a dealer lot to compare prices. If there's something in particular you're in the market for, the dealership might be able to use its resources to help you determine the going value.
Check the Wear and Tear
While price guides and consumer websites can give you general ideas of value, the financial value of a pop-up camper can vary greatly depending on its wear and tear and the condition of its amenities. For example, the condition of plumbing, electrical and hydraulic systems can all have a substantial impact on the camper's value. If you're buying, ask for maintenance records.
Climate Conditions
Weather takes a toll on pop-up campers and can impact value. How the camper was stored can also affect price. For example, a camper stored inside and used in temperate climates is likely to be more valuable than one left outside in harsh weather conditions.