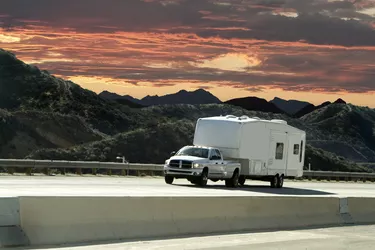 Recreational vehicles (RVs) offer comfort for travelers and come in different types: a bus-style motor home, a camper van, a travel trailer towed by a truck. Most consumers finance a part of the cost as RV prices can be as high as several hundred thousand dollars. You have several financing options for a truck and an RV depending on your situation.
You may be able to finance an RV with the truck if you already have a truck loan and have paid it down significantly. If the difference between the value of your truck and the balance of your truck loan is what you need for your RV, a lender may offer a cash-out refinance. You will use the proceeds from this refinancing to pay for your RV.
The collateral for the loan will be your truck. The RV title will be clear, without a lien holder. You may do so, as long as the lender can refinance your truck and give you enough cash from the proceeds.
If you are purchasing and financing both a truck and an RV, each vehicle (collateral) must have a separate loan. RVs are luxury vehicles and loan qualification guidelines are stricter than for auto loans. To qualify and to get a low interest rate, you need to have a good credit history and a high credit score, which Forbes reports is 720 or above.
RV interest rates vary; check with various financial institutions to find the best option. When you inquire, lenders will give you a range of rates as they need to analyze your application and credit report to determine the exact rate. A lender may offer you a lower rate if you opt to finance an auto and an RV loan at the same financial institution.
If you decide to purchase a camper-style RV, you will need a heavy-duty truck to tow it. Many RV dealers sell trucks equipped to tow RV campers. Before you go shopping, you will need to get a loan pre-approval, points out Capital One. Submit an application and ask for a pre-qualification letter from a lender.
A dealer will be more willing to negotiate if he knows that you have already arranged the financing. Buying an RV and a truck at the same dealership may give you an advantage to bargain for a lower price. Research and shop around for the best price.
Additional Truck Loan Tips
If you need to finance a small amount, consider getting a truck title loan. If you own a truck free and clear, you may use the title loan proceeds to pay for an RV. A truck loan is likely to have a lower interest rate than an RV loan. Keep in mind that you may only do so if your truck's value is as much as you need to purchase an RV, and if a lender is willing to loan up to that amount.