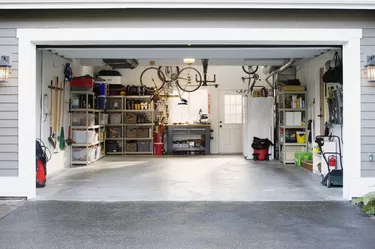 Getting the money to build a garage for your home can be tricky, depending on how much equity you have in your home, your income level, your credit score and other factors. There's no special home loan for a garage, but the project might qualify for a government loan. Reviewing your options for financing a garage conversion or new construction will help you choose the best option for your needs.
To get any type of loan, you're going to have to show potential lenders that you're a good risk. Get the following information ready to give to potential lenders:
Social Security number
Last one to three years of tax returns
Credit reports*
Credit scores*
Most recent bank statement
House appraisal
Ownership proof of any collateral you want to offer
Co-signer information (if you are using a co-signer)
Building plan, permits, builder information and project quotes
*You can give your credit reports and scores to potential lenders as you first discuss your garage loan options, but lenders will do a hard pull of at least one of your credit reports and one of your credit scores before they make their final decision. A lot can change between your first meeting with a lender and the time you're ready to sign your papers, so lenders will want your latest information.
Apply for a Home Equity Loan
If you have made enough payments on your home, if its value has risen and you paid a down payment, you might have enough equity in your home to get a loan that covers the cost of your garage. You'll need to apply and qualify for a home equity loan similar to how you apply for and qualify for a mortgage, but since you have collateral to put up for this second mortgage, it might be easier for you to qualify.
A home equity line of credit doesn't commit you to a set amount for a set time period. You qualify for an amount of credit, but you only pay for what you use. Think of a HELOC like a credit card, explains Bank of America. This allows you to use less than your entire line of credit, which means you're not on the hook for paying interest on the amount of credit you don't use.
HELOCs are similar to home equity loans in the way you apply and qualify for them, and the fact that they are second mortgages on your home. If interest rates go up during your construction process, you might have to pay a higher rate on the new credit you draw from your line of credit – something that doesn't happen with a fixed-rate home equity loan.
Cash-Out Mortgage Refinance
Rather than taking out a second mortgage, you might be able to refinance your existing mortgage, rolling the garage costs into one new (larger) mortgage, suggest Bankrate.com. This might be the best way to finance a garage project if you want to keep all of your house debt in one loan.
If you don't have enough equity in your home or you don't want to risk it with a second mortgage, you can try getting a personal loan. This is like applying for a credit card – you don't need to put up any collateral.
You'll need to have an adequate, provable annual income, a good credit history and a solid credit score. If you have a co-signer, such as a parent, you'll be in even better shape.
Look at Home Renovation Loans
A variety of commercial lenders offer home renovation loans that require you to qualify using most of the same criteria you need to meet for other loans and lines of credit. You can do an online search for "home renovation loans" to find them. The U.S. Department of Housing and Urban Development offers Title I Loans Property Improvement Loans, which can be taken out in conjunction with a 203(k) Rehabilitation Mortgage Insurance policy.