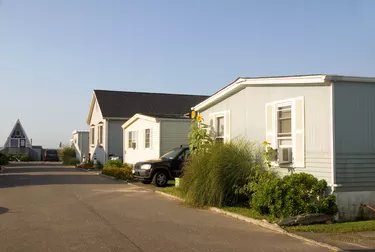 If you are interested in purchasing a doublewide mobile home and do not have upfront cash to pay for it, you can apply for financing. While traditional banks do not typically offer loans for mobile homes, you can get financing from other places. In order to obtain financing, you must complete an application with your name, address, date of birth, Social Security number and income details. You will also need to provide proof of income in the form of paycheck stubs or W-2s.
Step 1
Check your credit score with the three credit bureaus so that you can determine your eligibility for financing. You typically have to pay to get your credit score, which you can do directly from the credit bureaus or on the My FICO website (myfico.com). Pricing varies.
Step 2
Submit a financing application through the mobile home manufacturer, if you are buying from a manufacturer that offers financing. Typically, you can only do this if you are buying a new doublewide. Only apply if your credit score is at least 620 and you have a down payment amount of 5 percent.
Step 3
Apply for financing through a specialty mobile home lender, such as MH Loans (mh-loans.com), which offers financing to people with good and bad credit. If you have bad credit, you will need a higher down payment amount of 20 percent.
Step 4
Use a cosigner for your doublewide financing, if you have poor credit and know someone with good credit that will sign the loan for you. With a cosigner, you will only need the standard 5 percent down payment if the cosigner will be living with you in the doublewide. Otherwise, you will still need the 20 percent down payment.