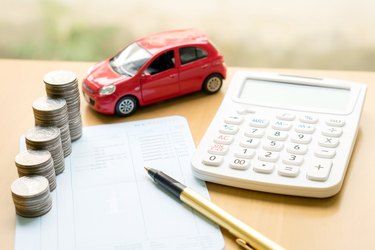 Financing a car through an auto dealership can sometimes be a bad idea. You'll often find credit unions and banks offer lower interest rates. Unlike other dealers, CarMax offers competitive interest rates on the used cars you buy through their local and online retail shops.
How CarMax Auto Financing Works
CarMax offers used cars for sale through its website and local lots, located around the country. When you purchase a car through the company, you have a variety of choices for your auto loan.
CarMax Finance
Ally Auto
American Credit Acceptance
Capital One
Chase
Exeter
Santander Consumer Bank
Westlake Financial Services
CarMax offers a preapproval process that will give you an idea of what your payments will be before you choose a car. You can also bring your own financing, so it might help to shop around and compare rates before you get in touch with CarMax.
CarMax Finance Terms and Rates
When you buy a car through CarMax Auto Finance, you complete one application and get a rate quote based on your credit score and the amount of the loan. Repayment terms range from ​36 to 72 months​, and the APR ranges from ​2.95 percent​ to ​26 percent​.
One of the best things about financing through CarMax is the three-day payoff program. If you find a better rate at any time, you can use the loan to pay off your CarMax Finance loan with no penalties.
Requirements for CarMax Financing
If you're ready to buy a car, CarMax's lenient preapproval process may be just what you need. There's no minimum credit score requirement, with car loans available to those at all credit levels, even first-time buyers. Those with new or bad credit may find they're quoted a higher loan rate, though, so it could be well worth comparing to other options.
No down payment is required for a CarMax Finance loan, but you will find that your monthly payment can be substantially lowered by putting even a few hundred dollars down. CarMax will also look at your employment situation before approving the loan, so if you're between jobs, it might not be the best time to use their financing.
CarMax offers competitive interest rates on the used cars you buy through their local and online retail shops.
Managing Your CarMax Finance Account
Like many lenders, CarMax now offers an online portal for managing your account. Through the CarMax Auto Finance portal, you can set up autopay and manage payment reminder emails. You can use the online account login or download the app for your iOS or Android device.
To get started with the finance portal, you'll just need to provide your account number, Social Security number, date of birth and email address. Using the portal, you can create a paperless experience and reduce the risk that you'll miss a payment.
Those with credit history challenges often find car buying is easier with a loan co-signer. This person contractually agrees to take responsibility for your loan if you stop paying. CarMax doesn't allow co-signers, so you may need to go with an outside lender if you're relying on a co-signer.
Although CarMax doesn't allow co-signers, you can finance your car purchase with a co-buyer. This is a joint applicant who is agreeing to share responsibility for paying off the loan. Your co-buyer can create a separate portal login and access the same features you can.
CarMax Fees and Penalties
When financing a car purchase, it's important to be aware of processing fees. Dealerships charge fees for processing paperwork. Not all CarMax locations charge these fees, but some do, so it's important to check before you sign on the dotted line.
CarMax does charge a late fee if you miss the due date. There is a grace period built into each payment period, so as long as you've made the payment before the cutoff, you'll be good. The late payment and grace period will be outlined in your contract.
Although you can line up financing after tracking down a car, preapproval is always an important first step in the car buying process. You'll need to find room in your monthly budget for a car payment, so calculating how much you can afford can help you figure out which car to buy. CarMax has a Car Payment Calculator that will help you determine your monthly payment.
There are some things you can do to minimize your monthly cost. If you have a trade-in, that will reduce the amount you're borrowing. You can also look for lower-priced used vehicles that will cut your amount. Increasing your down payment amount or increasing your loan term length will also cut down on what you'll pay each month.
The CarMax Financing Process
Once you've researched your financing options and gathered your down payment, you'll just need to either visit a CarMax dealership or use their website to get started. To get preapproved, go to the CarMax preapproval section of the website and follow the prompts. You'll need an idea of your credit score, your down payment amount and the cost of the car you want to buy to see whether you qualify.
Within 20 minutes of applying, you should get a response. If you're preapproved, simply track down the car you want and initiate the buying process. You'll choose CarMax as your car financing option when you buy and go through a more thorough application to complete the loan.
CarMax Financing Advantages
CarMax has become well-known for its no-haggle pricing and 24-hour take-home test drive, but there are some benefits to arranging your financing through them.
​Third-party lending options:​ Unlike other auto dealers, CarMax offers multiple lending options. With a variety of partner lenders, you'll be able to access lower rates than if the dealership's finance arm was your only option.
​Open to bad and no credit applicants:​ There's no minimum credit score or income qualifications necessary. Your rates and terms will be better if your finances are in better standing, but you won't be shut out of a loan altogether if you're new or struggling to rebuild your credit.
​Quick online preapproval:​ The preapproval process is available through the website. Just answer a few questions and get a response in ​20 minutes​.
​Easy account management:​ CarMax offers an online portal that lets you make payments and manage your account. You can set up autopay to ensure you never miss a bill.
CarMax Financing Disadvantages
There are some downsides to CarMax financing to be aware of before you start shopping for a vehicle.
​CarMax-only financing:​ You can only use their financing services for a car you buy on one of their lots. You can, however, contact some of their partner lenders directly for loans for other vehicle purchases.

​Used cars only:​ CarMax specializes in used car sales. That means those looking for a new car won't be able to take advantage of their financing options.

​No soft credit check:​ If you're trying to strengthen your credit score by limiting credit card and loan applications, CarMax has another downside. The preapproval process will impact your credit score, unlike other lenders that run a soft credit check on borrowers during preapproval.

​APR ranges:​ Although CarMax promises competitive rates, its APR range can go higher than other lending options. It's important to compare their rate quote to what you can get through a dedicated lender.
If you're in the market for a used car, CarMax can be a great option. You can fund your car purchase through CarMax Finance, but you can also pay cash or bring your own financing if you find a lower rate elsewhere.