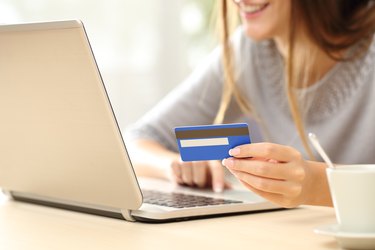 Through a partnership with Capital One Bank, the Yamaha Factory Financing and Star Motorcycle Factory Financing cards allow you to charge the purchase of Yamaha motorcycles and accessories and pay over time. As with any credit card, on-time payments are important to maintain your credit history, and the method you use can make a difference in when the payment is credited.
Online
Using the Yamaha online customer care portal is the fastest method for submitting payment. Online payments are processed immediately, making this an attractive option for making payments close to the due date. You can make your online payment by bank transfer, as well as by debit card.
Over the Phone
You can also make payments on your Yamaha credit card via the automated payments system by calling Customer Relations at 1-800-252-5265. Provide your account number and other identifying information and then follow the prompts to submit your payment by debit card or ACH bank transfer. These payments are processed immediately as well.
By Mail
Sending your payment by mail takes the longest, so it should be used well before the due date. You can use the payment stub provided with your monthly bill to pay by bank account or debit card. You also can mail a check. Send payments to:
Capital One
PO Box 5226
Carol Stream, IL 60197-5226
Warning
You must pay at least the minimum amount due, and it must be received by the due date to avoid default.
Tip
If you have special conditions for your payment, such as if you are sending in more than the minimum and want a portion of it applied to the principal instead of the interest, you must send payment through the mail to the attention of the Special Handling department. Your payment must be accompanied by a note stating exactly how you want the payment handled.