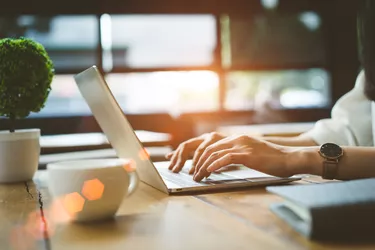 Since it was founded in 1997, Merrick Bank has increased its customer base to the point where it currently serves almost 3 million cardholders. It issues two types of Visa credit cards: the unsecured Platinum Visa and a secured Visa card. Regardless of which Merrick Bank credit card you have, you can make online payments after you complete a free online enrollment in the Cardholder Center.
Secured Vs. Unsecured Visa Cards
Merrick Bank's Platinum Visa is an unsecured credit card. "Unsecured" means that customers are eligible for this card based on their credit merit alone. If their credit scores meet Merrick Bank's standards, customers are qualified to receive this card.
Merrick Bank's Secured Visa is designed for customers who are still in the process of building a good credit profile or rebuilding a blemished credit profile. This card is "secured" by a deposit that customers make, which backs the credit that Merrick Bank extends to them.
Enrolling in the Cardholder Center
If you're already enrolled in Merrick Bank's Cardholder Center, simply log in to your account to make a payment on your credit card. If you're not enrolled, it takes just a few minutes to set up your online profile for your Merrick Bank credit card login.
Visit MerrickBank.com/enroll and complete the fields for your Merrick Bank account number, which is the number on the face of your credit card, your date of birth and the last four digits of your Social Security number (SSN) to verify your identity. Follow the online prompts to finish your enrollment.
After you've enrolled, you'll not only be able to make credit card payments, but you'll also be able to view your balance at any time, view your statements, schedule automatic card payments and set alerts that will tell you when charges are made to your card.
Making Payments in the Cardholder Center
Access the Merrick Bank pay online option by logging into your account at logon.MerrickBank.com with the username and password that you used to enroll in the Cardholder Center. You can make one-time payments or set up recurring payments.
If you're building a blemished credit score or simply continuing to improve an already good score, you'll be able to monitor your credit health by taking advantage of a free benefit. Merrick Bank's goScore provides you with your updated FICO credit score each month.
You'll have no liability for unauthorized charges on your Merrick Bank account made with your credit card or your account information because of Visa's Zero Liability policy.
Other Ways to Make Payments
You can also make a Merrick Bank Visa card payment by downloading the m**obile app**, which is compatible with iPhone and Android devices. You'll need to be enrolled in the Cardholder Center to access this feature.
Simply log in to your account and download the goMobile app. You can also go directly to the App Store or Google Play to download this app. There is no charge to download Merrick's goMobile app, but your mobile carrier may assess message and data rates.
And you can always mail your payment, if you prefer paying by check instead of online. Send your payment to: Merrick Bank, PO Box 660702, Dallas, TX, 75266-0702.
If You Have Questions
Contact a representative at the Merrick Bank phone number (1-800-204-5936) if you have questions about your Visa card, your account or enrolling in the Cardholder Center.