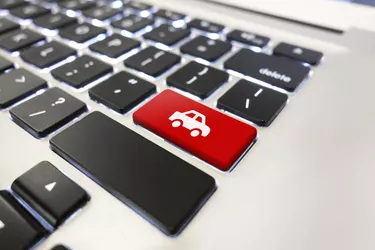 We live in an age when it's possible to shop for virtually everything from home and have it delivered to the doorstep. The Capital One Auto Navigator is almost – but not quite – that efficient and effortless.
You can prequalify for financing on the Capital One app, then shop for your car online. You'll know how much you can spend and according to what terms. But then you must actually go to the dealership to purchase your wheels. Nonetheless, the process is still a lot more time-efficient than prowling a dealer's lot on foot to do your car shopping. So what could go wrong?
You might already know what you can or are willing to spend when you begin your car-buying mission, but you'll need financing unless your savings account is mega healthy. The Capital One Auto Navigator site provides a link you can click on to get prequalified for an auto loan. The link will show you your financing options with Capital One Auto Finance without dinging your credit score. This part of the process takes just a few minutes.
But prequalifying isn't the same as preapproval. It doesn't mean that you're guaranteed an auto loan. The tool more or less tells you what you could borrow if you're approved. You'll still need credit approval when you get a little further down the line in the purchasing process.
Prequalifying doesn't hurt your credit score because it's not a "hard" inquiry on your credit report. It doesn't guarantee that you're credit-worthy. It more or less tells you what you can probably borrow based on preliminary data such as your income and your credit score.
The next step is the fun part: selecting the car you want to buy, and you can do this part online too. There's a link on the Capital One Auto Navigator site for available vehicles. Click on it, and it will take you to pages upon pages of autos. You can filter your search by price, range, make, model, year and distance from your home.
Now you've zoomed in on a few vehicles you think you might want to spend the next several years driving. Click on each of them, and you'll be treated to a summary of the interest rate you'll be charged on the auto loan and how much your monthly car payment will be. This lets you compare your options if more than one car has piqued your interest.
Or maybe you've found your dream car, so no comparison is necessary. But that monthly payment isn't quite what you had in mind. Not a problem. The Auto Navigator lets you make adjustments, such as how much of a down payment you want to make and how long you want the loan term to be. You can effectively tweak your payment into something you can live with. You can even input the likely value of your trade-in if you're going to make one.
Now the work begins. You've prequalified, found your auto and wrestled your monthly payment into something you can live with. It's time to head off to the auto dealership. But you don't have to – and you shouldn't – go alone. Take Auto Navigator with you, whether the app is on your phone, tablet or laptop.
This is the point at which you'll actually fill out a credit application. Remember, so far you only know how much you can likely borrow for this purchase. You don't yet have a car loan. Submitting the credit app will create a hard inquiry on your credit report.
The dealership will find financing for you based on your credit application. Ideally, it will zoom in on your Capital One prequalification offer, but there's no guarantee of this. It may offer you financing with another lender. But you'll have that phone or tablet with you so you can compare what you're being offered to what Auto Navigator has indicated you can probably borrow and at what terms.
That alternate financing might actually be better than a Capital One auto loan, and that's OK. You're not locked into Capital One financing. The ultimate choice of what loan to take is yours, provided that Capital One ends up approving you, not just prequalifying you.
Now you're done. Sign the loan contract. It should include all disclosures and the financing terms you're agreeing to abide by. The dealer will assign the contract to the lender you've chosen.
You can prequalify for financing on the Capital One app, then shop for your car online but there are some limitations.
There's a lot to like about this app, and Apple Store reviews give it a 4.8 out of 5 customer rating. Google Play reviews give it a 4.4 rating, but that's still pretty good. And it's free.
The whole process is time-saving, even with that trip you'll have to make to the dealership. Capital One reports that 90 percent of its users report saving time with dealer negotiations and finalizing their purchases.
The app is user friendly. The site includes a video that demonstrates how to use it if you don't happen to be tech-savvy and simply jumping in with both feet gives you pause. You can call Capital One Customer Service at 800-689-1789 if you still have questions or find that you need more assistance when you're at the dealership. Of course, you have to do so during business hours: 9 a.m. to 9 p.m. ET on weekdays, or 10 a.m. to 7 p.m. on Saturdays. Customer service isn't available on Sundays.
This isn't to say that there aren't some downsides with the app, and users have had a few complaints.
One issue is that the auto prices and interest rates that you're quoted on the app aren't always pinpoint accurate or guaranteed. They can vary for any number of reasons when you actually get to the dealership to finalize the deal. You might find yourself in the position of wondering if the dealer is being honest with you, or if maybe it was Capital One that wasn't being entirely honest. And yes, the dealer does have plenty of autonomy here. It's not locked into the terms that Capital One has quoted you.
Capital One advertises that the app will perform a "nationwide" search for the car of your choice, but that's something of a play on words. Yes, it can find autos for you all over the country, but you're limited to choosing one that's within ​500 miles​ of your location. This can hamper users who live in far-flung rural areas where there aren't many or any Auto Navigator participating dealerships.
Of course, this is an app, so it's going to collect and store all that data you entered when you were prequalifying and looking for a vehicle. Apple indicates that Auto Navigator will track your usage data and share it with other companies. It will collect and save your financial and contact information, although your search history and location aren't directly linked to you in any database.
That said, there are far more difficult ways to purchase your next car.