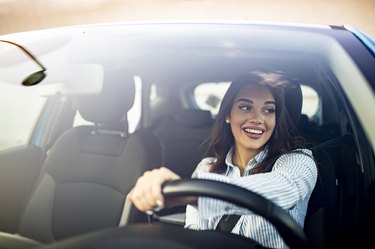 Chances are you bought your Toyota from a certified dealer, who would have assisted you in getting a loan with Toyota Financial Services. Although Toyota Financial Services has a host of attractive programs to get you in a car, such as the College Graduate Program, Military Rebate Program and the Repeat Customers Program, they don't offer the opportunity to refinance your vehicle down the road. Fortunately, you don't have to stick with your Toyota Financial Services loan. You can shop around and go with another lender, should you need to refinance your Toyota.
Review Your Current Status
Before refinancing, it's a good idea to take a look at your finances and determine whether the refinance will benefit you or not. You'll want to check on the current loan's payoff amount to see just how much you owe. If you have that amount in savings, you may just want to pay the loan off and work on rebuilding your savings account. Next, review your Toyota Financial Services interest rate and then check your credit score. If your credit score has improved since you first applied for the loan, chances are you will qualify for a lower interest rate when refinancing.
Finally, consider any changes to your budget. Perhaps you switched jobs and have a lower salary, thus decreasing how much you have to put toward the Toyota loan each month. A refinance could extend the loan over a longer time period, making your monthly payments more affordable.
Research Top Auto Finance Companies
Once you know a refinance will benefit you financially, you can begin researching the top auto finance companies. Create a list of around five companies that are BBB accredited with an A or A+ rating. You want to look for companies that have excellent first-hand customer reviews and interest rates that beat what you're currently paying. Don't forget to check the available terms if you're looking to extend your loan.
Once you have your list, you can begin applying for the refinance. You can do this individually by visiting each financial institution's website and filling out the appropriate form, or by using a site like MotoRefi, which allows you to fill out one form and then compare the rates of the company's participating providers, choosing the one you like best. And since you don't have to submit your Social Security number with MotoRefi, it doesn't affect your credit score.
Note: If you decide to apply for refinancing directly from each lender, Elgin Toyota advises submitting all your applications within a 14-day period to avoid any negative impact on your credit score.
Gather the Appropriate Documentation
When filling out a bank or credit union's refinance form, it helps to have all of your documentation at the ready. According to Ally bank, there is certain information you must have to apply for a new loan:
Social Security number
driver's license number
information on your current loan, including the balance, interest rate, terms and monthly payment amount
information about the vehicle you're refinancing, such as VIN, make, model and year
proof of income
While you may not need all of the documents above to become pre-qualified, you will need them for an official loan decision.
Review the Terms and Conditions
Before you choose the best loan and sign on the dotted line, you should review the loan's terms and conditions carefully. Make sure that you are indeed getting a lower interest rate and that the new monthly payment amount now fits your budget. Check for any hidden fees such as a pre-payment penalty. If everything is to your satisfaction, sign the documents and return them to the lender.
According WithClutch.com, once the loan goes through, you'll need to visit your local Department of Motor Vehicles and change the lienholder on your vehicle title from Toyota Financial Services to your current lender.