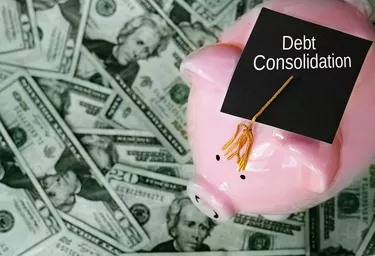 Student loan debt can be a serious monthly expense. With student loan repayment taking an average of ​20​ years, many students eventually take a look at refinancing those loans. If you haven't considered a student loan refinance, now might be a great time.
What Is Student Loan Refinancing?
College is expensive. To cover the costs, many students take out student loans. In fact, student loan debt is so prevalent, ​65 percent​ of college graduates have some form of it after graduation.
Refinancing your student loans can be a big cost-saver, especially if you time it right.
As with any loan, though, interest rates tend to change over time. If you see the rate drop significantly lower than what you're currently paying in interest, refinancing can help you save money. But there are some considerations, including whether you have a federal student loan or a private student loan.
Federal Student Loan Protections
If you have a private student loan, refinancing for a lower rate is almost always a good idea. But refinancing federal student loans can put you at a disadvantage. Federal loans come with protections that you don't get with a private loan.
When to Refinance Student Loans
Refinancing your student loans can be a big cost-saver, especially if you time it right. If you can find a lower interest rate, you could enjoy lower monthly payments, which can drop your monthly expenses.
Another reason to refinance your loan is to get better terms. If, for instance, you signed on with a variable rate, you can refinance and lock in a fixed rate that will help you weather interest rate hikes.
How to Refinance Your Loan
Before you start looking for any loan refinance, it's important to take a quick peek at your credit score. Although the minimum credit score for qualifying differs from one loan servicer to another, a score of ​670​ or better will generally be necessary.
Once you're fairly certain of your eligibility, research the various rates currently being offered. You can get rate quotes on a new loan for your desired loan term using one of the many rate comparison tools available online. You'll often need to provide your loan balance and proof of employment during the application process.
Where to Find Refinancing
If you have a good credit score or better, you shouldn't have any trouble finding a good deal on a loan. With so many online refinancing lenders, you should be able to apply and close on your loan fairly quickly. Refinancing rates can be competitive, so make sure you're getting the best deal possible.
Those who have multiple student loans might also consider debt consolidation. You can find student loan consolidation options through the Department of Education. This combines your multiple federal loans into ​one​ federal loan. You can also combine multiple student loans into ​one​ private loan.
Finding the best student loan refinance options is easy, thanks to the many online rate comparison tools now available. But if your student loan is through the federal government, it's important to weigh any savings against the protections you're giving up, particularly the occasional student loan forbearance programs like those offered during the COVID-19 pandemic.