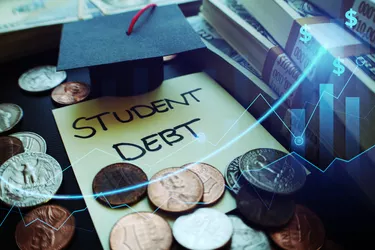 During the pandemic, the federal student loan payment pause has provided important financial relief to many borrowers. In late December 2021, the U.S. Department of Education extended the relief again and announced the automatic forbearance would end on ​May 1, 2022​. Since making student loan payments again will affect your budget, you should understand what you can expect from your loan servicer as well as what you can do to get further student loan relief if you don't think you'll be able to resume payments.
Student Loan Payment Pause Effects
Since ​March 13, 2020​, the federal government has taken action on student loan debt due to the coronavirus. Back then, the Trump administration temporarily set the interest rate on your federal loans to ​0 percent​, paused your payments and stopped collections attempts. Also, if you've been on a student loan repayment plan leading to loan forgiveness — such as Public Service Loan Forgiveness — the paused payments have counted toward your progress as if you'd made them.
This relief has continued to be extended, most recently due to the omicron variant. But when the pause ends in May, your lender will resume payments and should contact you beforehand with your payment amount and first due date. At that time, interest will start to accrue again on your loans, and any automatic payments will be taken from your bank account.
Although there's an end date set, you should still keep an eye on the news for further developments. For example, there are pushes for President Joe Biden to offer widespread student loan forgiveness, and the payment pause could have a further extension. But in any case, you should start to prepare now as if repayment will surely begin. Otherwise, you risk issues such as a low credit score and garnished wages from defaulting.
Checking With Your Loan Servicer
Now is a good time to log in to your student loan servicer's website and check both your contact information and loan details. You'll want to make sure your email address and phone number are up to date in case your lender needs to speak with you about your account. In addition, check your current loan balances, interest rate and payment amount so that you can start financially planning. Also, if you do automatic payments, make sure your banking details are up to date.
Affording Your Monthly Payment
If you're one of the many federal student loan borrowers concerned about the payment amount after the forbearance period, you can consider options such as changing repayment plans. Depending on the type of federal student aid you have, you can look into income-based repayment options, such as the Revised Pay As You Earn (REPAYE) and Income-Based Repayment (IBR) plans. Both options can also qualify you for eventual loan forgiveness in 20 to 25 years.
The REPAYE plan works just for direct loans and caps your payment to ​10 percent​ of your government-calculated discretionary income. On the other hand, the IBR plan works for more loan types, such as Federal Stafford, consolidation, direct and PLUS loans, and caps your payments to ​10 to 15 percent​ based on your discretionary income. You can visit studentaid.gov to learn more.
In addition to getting a reduced payment plan, you might need to tweak your budget or seek extra income to prepare to resume federal student loan payments. This might mean canceling unused subscriptions or memberships, cutting down on entertainment purchases or shopping around for better deals. You might also opt for a side gig so you've got a roomier budget.
Seeking Further Forbearance or Deferment
Whether the COVID-19 pandemic or another personal circumstance worries you about when payments restart, you might have luck getting another deferment or forbearance. While a forbearance won't stop interest from adding up like a deferment does, either option can buy you some more time and prevent delinquency.
You'll want to contact your loan servicer before the payment pause ends, explain your situation and possibly show documentation proving your hardship. You might also do this through the servicer's website. Note that eligibility requirements depend both on federal rules and your loan servicer's policies.