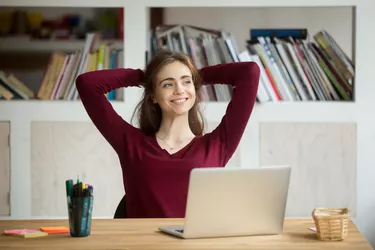 The CARES Act first provided borrowers with a break from paying on their student loans in March 2020. This deferment of loan payments was set to expire on Sept. 30, 2020. President Trump extended the expiration date through December 2020, then it was extended again through Jan. 31, 2021. President Biden took office and pushed the date back to Sept. 30, 2021.
But it turns out that student loan relief won't end on that date, either. In August 2021, the U.S. Department of Education announced an extension until ​Jan. 31, 2022​ in an act of "administrative forbearance." The extension is automatic – you don't have to take any steps to claim it – but your loan must qualify. This has been the case since relief first went into effect. The DOE has indicated that this is the final extension.
The Terms of the Extension
You won't have to make any payments on your student loans until Jan. 31, 2022, and no interest will accrue during this time, either. The interest rate has been set at ​0 percent.​ The government won't take any steps to collect on defaulted loans during this period if you had money due by the time relief first went into effect. Garnishment of your wages or other collection methods should stop through the end of January 2022 if these measures were already in place by the time relief was offered. Pre-existing default-related fees won't be waived, however.
The zero-percent interest rate means that your payments will go entirely to your principal balance after any pre-existing interest is paid off if you do make any during this time. Direct debit payments have been suspended, but you can still voluntarily make payments if you choose. And you're entitled to a refund if you were unaware of all these months of relief and made payments that you really couldn't afford. You can request this relief from your student loan servicer or from FedLoan Servicing.
Eligibility of Student Loans
Your student loan must be owned by the U.S. Department of Education to qualify. These loans include:
Direct Loans
FFEL Program loans
Federal Perkins Loans
HEAL loans that have already defaulted
Private student loans aren't eligible for this relief because the federal government has no authority over them. This can include some FFEL and HEAL loans, so make sure your contracts are held by the government if you have one or more of these, or reach out to your loan servicer. Some may voluntarily offer you some relief, even though they're not required to do so. A few have already provided forbearance measures and are waiving late fees for up to 90 days, and they're not reporting negative information to the credit bureaus, either.
You won't have to make any payments on your student loans until Jan. 31, 2022, and no interest will accrue during this time, either.
When It's Time to Resume Your Payments
You should begin receiving loan statements and bills sometime during January 2022 before this student loan relief extension expires. Notices are required to be sent out at least ​21 days​ before your next payment is due. Your interest rate will be reset from zero to whatever it was prior to the beginning of these loan forbearance measures.
Some servicers may recalculate your payments after the forbearance period ends. You can call your loan servicer ahead of time to find out what your payment will be at that time – you don't have to wait until you're officially notified of your next due date. Direct debit payments should resume on your first payment date after Jan. 31, 2022.
Consider applying for an income-driven repayment, or IDR, plan if you find that you're unable to make payments on your student loans when the Jan. 31, 2022 date rolls around. These plans can dramatically affect the size of your payment, depending on your family size and income. You can apply at Studentaid.gov.