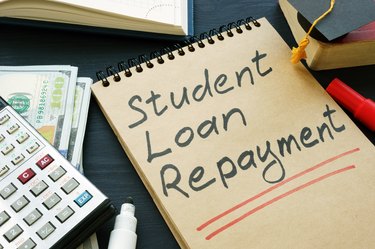 Two years have passed since student loan borrowers have had to make a loan payment. In response to the economic turmoil that the pandemic caused, the U.S. Congress passed the CARES Act. The March 2020 CARES Act placed a payment pause on all student loans.
The Trump administration signed the CARES Act to help lighten the burden many Americans felt from the coronavirus crisis. According to the U.S. Bureau of Labor and Statistics, 57 percent of the 16.9 million individuals out of work in July 2020 lost their jobs because their companies closed due to COVID-19.
This caused a lot of people with federal student loan payments to default on their loans. Fortunately, the federal government suspended federal student loan payments.
The first CARES Act lasted from March to September 30. But President Trump extended it the month before the act expired. Then, last year, President Biden again extended it.
Student Loan Repayment Postponed
Last month, with federal lawmakers' approval, the Biden administration extended the CARES Act until August 31, 2022. This is the eighth time a moratorium has been placed on student loan payments.
By the August extension, it will mean that Americans with federally backed loans will not have made a payment or had interest accrued on the loans for two-and-a-half years. This affects 41 million student loan borrowers for $1.7 trillion.
The goal of higher education forced many Americans to take out a federal student loan. This made student loans the second-highest debt category. It is second to mortgages and higher than credit cards and auto loans.
Average monthly student loan payments are $393. This executive action forbearance will help many Americans financially.
Student Loan Interest Rates and Garnishments
Wage garnishment has been prohibited for individuals who had delinquencies on their student loan payments before the pandemic. In addition, no lender or student loan servicer will try to collect from you during this student loan pause. Tax refund reduction has also been placed on hold.
Last month, with federal lawmakers' approval, the Biden administration extended the CARES Act until August 31, 2022.
Those individuals who had their wages garnished for student loans will receive the funds back if they wish.
This federal forbearance also affects interest rates. The latest student loan pause will continue to eliminate any accrued interest.
Student Loan Repayment Plans
Once the student moratorium is finally lifted, federal student loan borrowers may want to consider a new repayment plan. There will still be student loan debt, but knowing your options for federal student loan repayments may help you. You could pay based on your family size and income. There are several ways to make a student loan payment:
Revised Pay as You Earn Plan
Pay as You Earn Repayment Plan
Income-Based Repayment Plan
Income-Contingent Repayment Plan
The student loan payment pause may eventually come to an end. But everyone will have a fresh start and can begin to plan.
Public Service Loan Forgiveness
If you work for the government or in a non-profit field, there is a loan forgiveness program. The public service loan forgiveness program will forgive your student loan debt.
There are some stipulations. First, you must have a qualified employer. You also must have made 120 monthly payments under a qualifying monthly payment plan. If you meet these qualifications, you may be eligible for student loan debt cancellation.
Another loan forgiveness program is available to teachers. You must have taught full-time for five consecutive years in a low-income school. This could be elementary, secondary or an educational service agency. Student debt cancellation is up to $17,500 on a direct or FFEL program student loan.
Closed School Forgiveness
Student loan debt cancellation may be available if your school closes. If you are enrolled or after you withdraw from a school and it closes, your federal student loan may be discharged.