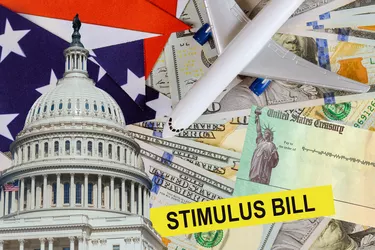 In 2020, the federal government introduced a number of financial aid programs to help lessen the negative economic consequences of the coronavirus pandemic. Unfortunately, many of these programs have either expired or been cut back.
Here's a list of the original government programs and the remaining ones that you might still be able to take advantage of.
Federal Financial Aid Programs That Have Expired
​Stimulus checks​ - In March 2020, Congress authorized over $800 billion in stimulus funds to assist individuals with low to middle adjusted gross incomes. Each person received checks of $1,200, $600 and $1,400, with the last one in spring 2021. The lowest-income individuals got the maximum amount, while the amount was gradually reduced for higher incomes.
There has been some talk about the possibility of a fourth round as a result of the spread of the Omicron variant, but nothing has been settled yet.
​Unemployment benefits​ - Part of the initial coronavirus stimulus bill included an additional $600 per week from the federal government for the unemployed through July 2020. This additional income is on top of the normal unemployment benefits an individual would receive from their state.
The original amount of the stipend from the federal government was subsequently reduced to $300 a week, and several extensions by Congress made it available through September of 2021. All this federal aid for the unemployed has now ended.
​Enhanced child tax credit​ - Part of the American Rescue Plan Act included over $90 billion in enhanced child tax credit payments. Eligible families could receive up to $300 each month for a child up to age six and $250 monthly for children ages six through 17. Half of these funds were available in 2021 with the remainder becoming available when families filed their 2021 income tax return with the IRS.
In total, a family could have received a financial aid award of up to $3,600 for each young child and a maximum of $3,000 for the older ones.
​Paid sick and family leave​ - In 2020, Congress guaranteed two weeks' pay for anyone who had contracted COVID-19 or was quarantining. This legislation also gave 10 weeks of family paid leave to anyone who was staying home with kids because their schools were closed or who was caring for a sick family member. These benefits were only available in 2020.
​Funds for small businesses​ - The Paycheck Protection Program provided almost $800 billion of loans to small businesses that could be forgiven, but the program used all its funds midway through 2020.
Congress set up the Restaurant Revitalization Fund with $28.6 billion in May 2021 to provide financial aid to restaurants. However, the demand for these funds was extremely high, and, even though the fund was able to award grants to more than 100,000 restaurants, it ran out of money in July 2021.
The best resource for small businesses now is to establish aid eligibility and apply to the Small Business Administration for a loan through the Economic Injury Disaster program.
​Student loan deferments​ - After several extensions of loan payment deferments for college students, the Biden administration has extended a pause in payments again through May 1. This means borrowers will not have to make monthly payments, and interest will not accrue during this time. In addition, collection efforts, including garnishment of wages and seizure of bank accounts, against those borrowers who have defaulted on their loans will also be paused.
These deferments are only available to borrowers with federal student loans through the U.S. Department of Education, not those loans with private lenders. Borrowers should contact their lender to determine the exact date in May when repayments will begin.
​Rental assistance​ - The federal government still has billions of dollars available to help tenants who are in a difficult financial situation and have fallen behind in their rent payments. You can check the National Low Income Housing Coalition for a list of programs available in each state.
In addition, several states will allow renters to pause an eviction process if they can show they're applying for rental assistance. If you need legal help, you can get free or low-cost advice in your state at Lawhelp.org.
​Subsidies for health care​ - Congress has also increased the tax credits available for anyone buying health insurance through the Affordable Care Act. By increasing the subsidies, the revisions place a limit on the amount a person would spend on health care coverage at 8.5 percent of annual income. Previously, there was no limit.
In addition, individuals who earn more than 400 percent of the federal poverty level can now receive a subsidy for the first time.
To take advantage of the additional subsidies, you must sign up before open enrollment ends in January.