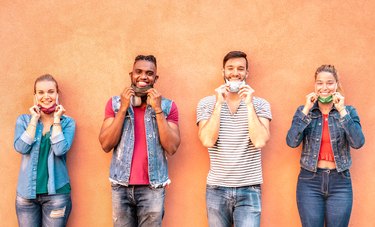 The $1,200 checks mailed out or deposited this spring by the federal government have been a lifesaver for millions of Americans. It's been so effective a measure that it actually kneecapped the poverty rate for a little while, a key point in the discussions over whether to send out another cash infusion. With millions unemployed and many more struggling to get by, those who received the checks had some big choices to make about how to spend them.
Some new research from the Aspen Institute suggests that we're divvying up that money in two major ways. The first is covering immediate costs; about half of us are buying essential items or paying bills, which is in line with how Americans spent stimulus checks sent out in 2001 and 2008. The other way we're spending the CARES Act money is to not spend it at all: Many of us are anxious about the future, including the rich, whose desire to protect their money may be sending the stock market into new and confusing heights right now.
Our economic climate right now is no joke. One out of every 3 Americans has been financially stranded by the pandemic, and just one-quarter of workers can do their jobs exclusively from home. In most states, the boost from unemployment insurances that's kept millions afloat will likely end in July, but the federal government could still rally to send out another round of stimulus checks. Let your elected representatives know if you have opinions about the matter — with so much at stake, there's no better time for them to listen.