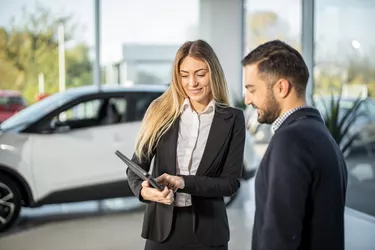 People who cannot qualify for loans through auto loan companies and banks often use cosigners to help them gain approval. Experian explains that co-signers apply for a loan with borrowers, permitting lenders to use the co-signer's credit history as part of the approval process. As a result, co-signers share responsibility for the loan with main borrowers and must make payments when borrowers cannot.
However, the co-signer cannot independently refinance the vehicle without the main borrower.
Refinance an Auto Loan With a Co-signer
It is possible to add a co-signer for a refinance, as long as both parties meet lender conditions. The co-signer has to have good credit (normally in the low 700s or higher) to be eligible. The lender will also consider the co-signer's debt-to-income ratio. If they have good credit, this can actually bring down the interest rate in a refinance.
Co-signers do not have any rights to these vehicles. What does this mean, exactly? Auto financing co-signers basically "lend" their credit to main borrowers to help them with approvals, and their credit records will be negatively impacted if the main borrower falls behind or stops making payments. So even if they are responsible financially, if the main borrower does not make payments, co-signers are not able to take possession of these vehicles.
Working With Auto Loan Companies
The Consumer Financial Protection Bureau describes the importance of budgeting for new vehicles and shopping around for affordable loans. Besides the interest payments, there are upfront dealer fees, taxes and title costs. Ongoing costs like gas, insurance, repairs and maintenance also need to be factored in. If a co-signer is part of the picture, all of the pros and cons should be discussed beforehand.
The main sources of auto loans are auto dealerships, banks, credit unions, auto loan companies and car refinance companies. Dealerships may pressure buyers to pick dealer-arranged financing, but in many cases, the dealers are paid (through the borrower's funds) for the referrals. Auto loan companies may be able to offer lower rates, so it pays to shop around first. None of these providers are required to offer borrowers the best interest rates that are out there, so be prepared to negotiate.
Many auto loan companies also act as car refinance companies and provide competitive interest rates and different lending and refinancing options. When looking at these providers, it is smart to look at the different terms, down payments and, of course, interest rates. Look for websites that allow you to compare these different features among the providers.
If you are having problems making car payments, The Consumer Financial Protection Bureau has a few more options that could work. A cooperative lender might be able to set up a payment plan designed to help borrowers repay any missed payments, but this does not eliminate the responsibility of ever having to pay back the money.
Changing the monthly payment date could also help in some cases. Moving it to the day after the borrower receives a monthly, bi-weekly or weekly paycheck can help people get right back on track. Payment extension plans can also work for people who are suffering temporary financial hardships (like COVID-19). With extensions, payments can be deferred for a specified amount of time. It could be the entire monthly payment, or the lender may want the borrower to continue making interest payments only.